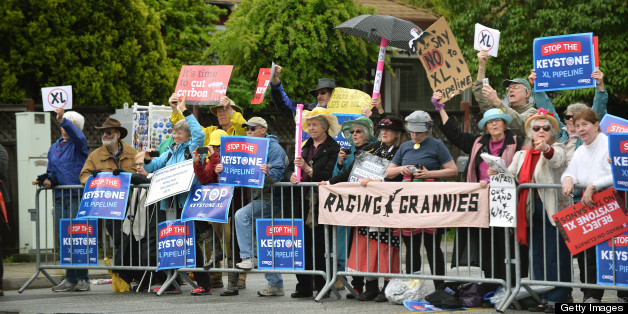 Along with Earth Day, April 22 marks the final day of the U.S. State Department's 45-day public comment period for the Keystone XL pipeline.
If approved by the State Department, the proposed international pipeline would carry diluted tar sands bitumen nearly 1,200-miles from Alberta to southeastern Nebraska. A southern segment currently under construction would carry the crude product on to Gulf Coast refineries.
Despite earlier word that the full volume of public comments on TransCanada's project would not be released, the State Department will both post all of the 800,000-plus comments it has received and allow for further public comment during the National Interest Determination period.
The comment period began after the State Department's release of a draft environmental impact statement in March. Its end paves the way for the department to decide if the international pipeline is in the national interest and issue a final recommendation to the White House.
Last week saw the State Department's only public hearing on the project, in central Nebraska. Hundreds of pipeline opponents offered impassioned pleas for the State Department to reject the project and claimed its climate impacts have been underestimated.
A recent report from a coalition of environmental groups estimates the Keystone XL will carry and emit a far greater volume of carbon dioxide-equivalent than the State Department claimed in their report.
Pipeline critics have also attacked the State Department analysis for using a third-party contractor with previous ties to TransCanada.
The Huffington Post's Tom Zeller Jr. notes that while those with the requisite expertise for assessing a project like Keystone would likely have industry experience, the State Department and the contractor, Environmental Resources Management, "did themselves -- and by extension, TransCanada -- no favors by hiding the work histories of ERM staff in a heavily and, it turns out, clumsily redacted document."
Conflict of interest concerns aside, the State Department report -- along with a 2011 Cornell University study -- does appear to debunk previous claims, especially from Republican lawmakers, that the pipeline would be a significant job creator. Although several thousand short-lived construction jobs would be anticipated, these reports suggest 50 or fewer permanent jobs would result from the project.
The recent, and dramatic, pipeline spill in Arkansas has also aroused fears of a future Keystone XL spill. The fouling of a suburban neighborhood and emerging health complaints have worried residents along the proposed Keystone XL path.
Critics contend that the continued acceptance of public comments through the National Interest Determination process is a "positive step," but doubts remains as to whether the State Department's recommendation will be "fair, sound and accurate."
BEFORE YOU GO
PHOTO GALLERY
Keystone XL Protests