Terrific news! A North Carolina couple just made the worst date of your life look amazing by comparison.
Adam Howell, a software designer, went to an Olive Garden in Pineville, North Carolina, on Sunday evening. Simple enough. But then the bickering of a presumed couple caught his attention, and once they sat down at the table, Howell couldn't help but send a picture of the squabbling love birds to Twitter:

(Scroll Down To See The Best Part: A Photo Of The Date)

That's right. The man at the table was apparently so mad at his dinner companion that he actually used Olive Garden's menus to physically barricade himself from her. Howell told The Huffington Post that the the menu fort was only possible because of the half-dozen menus Olive Garden servers provide their customers.
The barricade eventually came down, but only after the waitress came over and took the menus away, he added. Then the man resorted to playing around with his phone.
"He didn't seem to think that it was too ridiculous," Howell said. "He wasn't apologizing or anything, it was just something that happened."
Olive Garden did not respond immediately to a request for comment from HuffPost.
LOOK AT THIS AMAZING PHOTO: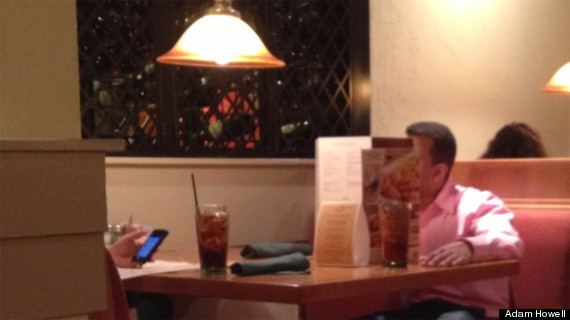 ALSO ON HUFFPOST:
PHOTO GALLERY
BEFORE YOU GO
10 Things The Fast Food Industry Doesn't Want You To Know
PHOTO GALLERY
10 Things The Fast Food Industry Doesn't Want You To Know