Flipping through the catalog for Christie's upcoming Andy Warhol sale is like examining the personal scrapbook of a Studio 54 regular. The Pop Art king was indeed a frequent visitor at the ultra-hip 1970s nightclub, and with Polaroid camera always in tow, he managed to document an array of celebrity-packed parties.
Amid the snapshots of Bill Murray, Grace Jones and Deborah Harry, one photograph from the bunch struck our fancy, though. Who is that Marina Abramovic doppelgänger sitting next to Andy Warhol at Studio 54, you ask?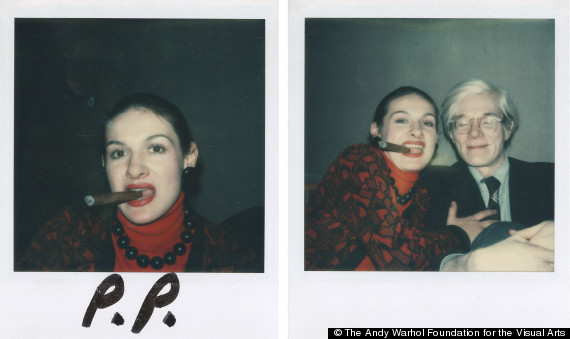 Why, that's none other than Pablo Picasso's daughter, Paloma. You might recognize her face from a series of paintings ol' dad made back in the 1950s. Or perhaps you know her as the acclaimed fashion designer who created jewelry for Tiffany & Co.
We were stunned to see the offspring of Francois Gilot and Picasso smoking a stogie with Warhol, but times were different. Scroll the slideshow below for more surprising photos of the artist and pals at Studio 54 -- feast your eyes on pics of young Keith Haring, Mikhail Baryshnikov and Bianca Jagger, and let us know your thoughts on the star-studded album in the comments.
"Andy Warhol @ Christie's: Studio 54" will feature more than 215 works, and will be available to view online from April 26 to May 3, 2013.
PHOTO GALLERY
Andy Warhol And Friends