A number of well-known architects have banded together to oppose the Museum of Modern Art's decision to demolish the former American Folk Art Museum building. Richard Meier, Nat Oppenheimer, Maxine Griffith, Robert A.M. Stern, and members of the Architectural League of New York recently penned a strongly worded open letter to MoMA, asking the institution to halt plans to tear down the iconic structure:
"The Architectural League calls on the Museum of Modern Art to reconsider its decision to demolish the American Folk Art Museum. The Museum of Modern Art -- the first museum with a permanent curatorial department of architecture and design -- should provide more information about why it considers it necessary to tear down this significant work of contemporary architecture."
The letter goes on to state that "the public has a substantial and legitimate interest in this decision," accusing MoMA of withholding a "compelling justification for the cultural and environmental waste of destroying this much-admired, highly distinctive" building. According to The New York Times, the architect's behind the Folk Art Museum's 12-year-old design, Tod Williams and Billi Tsien, share in the overall dissatisfaction with the demolition.
"It's not a comment on the quality of the building or Tod and Billie's architecture," MoMA director Glenn D. Lowry said of the decision in a recent interview with the Times. "We bought the site and our responsibility is to use the site intelligently."
Two petitions attempting to rescue the former American Folk Art Museum location are already in existence. Let us know your thoughts on the big debate in the comments. (Scroll down for more Arts News)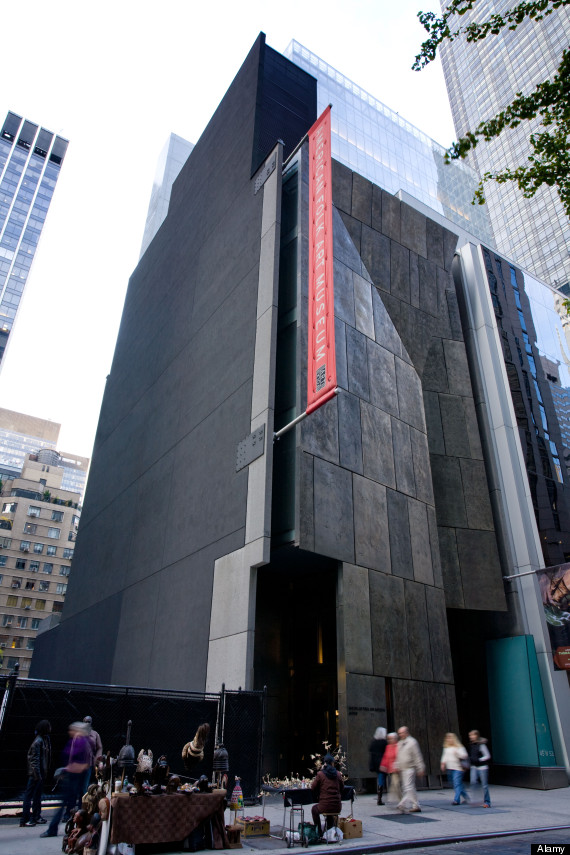 MORE ARTS NEWS
Kenny Scharf Arrested!: The 55-year-old street artist spent 20 hours in jail for a decorating a Brooklyn wall with his signature snake design. (ANIMAL NY)
Big Records Set At Recent Doha Auction: The title of "Most Expensive Living Arab Artist" goes to... Chant Avedissian for his $1.6 million work, "Icons of the Nile." (Arabian Business)
Congrats To Leonard Cohen For His JUNO Artist Of The Year Award: Take that, Justin Bieber. (Crave Online)
San Francisco Loves Ellsworth Kelly: Your favorite Color Field painter is turning the big 9-0 next month, and the San Francisco Museum of Art wants to celebrate. (Art Daily)
PHOTO GALLERY
Ellsworth Kelly