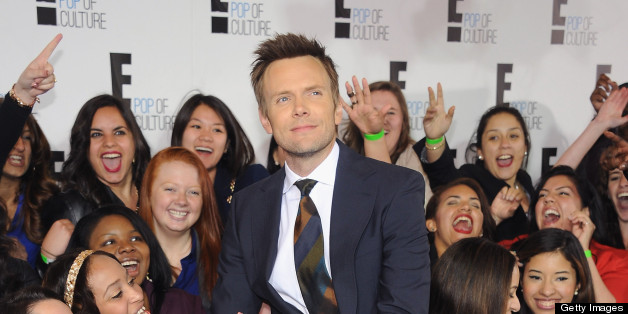 These days, our knowledge of celebrities too often originates with paparazzi images and snarky quotes by anonymous "insiders." After a while, it's easy to forget that stars are real people. That's why HuffPost Celebrity decided to launch its all-new #nofilter quick-fire question-and-answer series. Because how well do you know someone until they've shared their guiltiest pleasures?
Joel McHale cracks us up every Wednesday night on the E! network's "The Soup" and then continues to do it on NBC Thursday nights on "Community." But what we didn't realize was how hilarious he was in person -- that is, until HuffPost Celebrity caught up with him on the black-and-white carpet at the E! Upfront event in NYC on April 22, where he revealed his sarcastic secrets.
A celebrity guest you'd love to co-host "The Soup"?
Kim Kardashian, giving birth.
What's your guilty pleasure?
Umm, ritual murder.
What shows are always on your DVR?
"Community," 8 o'clock Thursdays on NBC. That's the only thing I got! No … I got "House of Lies," "Spartacus: War of the Damned," which just ended, "Lockup Raw," "Lockup Raw: Abroad," that new show on Comedy Central news by Tim Heidecker from Tim and Eric, look it up! [We think he's referring to "Workaholics".]
What superpower would you want?
To determine who lives and dies.
What's on your nightstand?
Eight gallons of lubricant … and not for people, for aeronautical stuff.
And who or what are you jealous of lately?
You and your warm coat. I'm freezing!