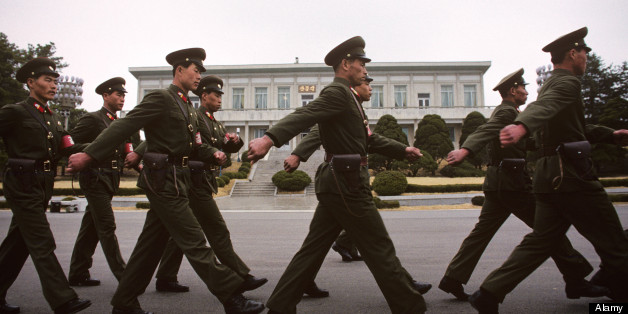 Although it's been aiming bellicose rhetoric -- not to mention, missiles -- at the United States and South Korea lately, North Korea is now singing a different tune for some of its neighbors. Pyongyang's new ambassador to Mongolia officially asked for food aid for North Korea last week.
"North Korea may face severe food shortage. Therefore, we ask Mongolia to learn possibilities of delivering food aid to North Korea," North Korea's ambassador to Mongolia Hong Gyu said in a statement posted on the official website of the Mongolian president.
North Korea has struggled to feed its people since a severe famine in the 1990s when an estimated 1 million people starved to death.
Although North Korea reported a moderately successful harvest in 2012, an expert on agriculture in the secretive nation told the Wall Street Journal that it won't be enough to sustain the nation during what is the toughest part of the year for food.
On Monday, officials said that the United States would consider resuming food aid to North Korea, provided it was allowed to send workers to monitor the distribution of supplies. The U.S. halted food shipments to North Korea in 2009 after Pyongyang expelled U.S. officials overseeing aid distribution.
The United States had planned to resume aid to North Korea last year if the country agreed to stop its nuclear program and allow United Nations inspections. That negotiation fell apart, but U.S. ambassador Robert King told AFP that the suspension of food aid was unrelated to the failed nuclear talks.
"When we made the decision to suspend our food assistance program it was based on our concern that we would not be able to monitor the distribution because the North Koreans had stepped back from agreements they had already reached," King said.
Tensions in the region intensified in the wake of nuclear and missile tests conducted by North Korea, and joint military exercises between the United States and South Korea. Last Thursday, North Korea provided the U.S. and South Korea with a list of conditions for talks, but reiterated Saturday that it would not give up its nuclear weapons.
On Tuesday, the Associated Press reported that North Korea would bolster its nuclear program in response to a U.S. State Department report that accused Pyongyang of human rights abuses.
Some experts have questioned the viability of a North Korean nuclear threat.
BEFORE YOU GO
PHOTO GALLERY
North Korea's Student Soldiers