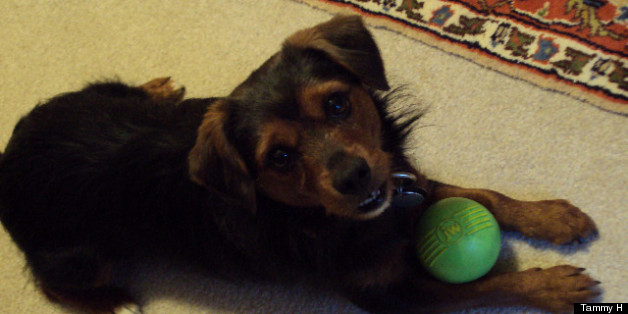 After a divorce or a bad breakup, it's only natural to seek out something to take your mind off the split, be it a dependable friend who indulges your ex-related rants, a much-needed online shopping spree, or your favorite brand of dark chocolate.
But in our opinion, nothing encourages healing after heartbreak quite like a good pet. Whether they're licking you while you're curled up in bed or giving you a gentle nudge to remind you that, "hey, life goes on (and I need to be fed!)," the healing powers of a cuddly, four-legged friend are undeniable.
Reddit user janepomeroy reminded us of that on Tuesday, when she posted a photo of the particular pet that helped her get through divorce. "My recent divorce isn't so bad," she joked. I have a sexy new boyfriend." Take a look:
Adorable, right? The photo brought a smile to our faces, so we decided to ask our followers on Facebook and Twitter to share photos of the pets that helped them get through a split. Click through the slideshow below for all of the aww-inducing submissions, then tweet or email us a pic of your heartbreak-healing pet!
PHOTO GALLERY
The Pet That Got Me Through My Breakup
Keep in touch! Check out HuffPost Divorce on Facebook and Twitter.
BEFORE YOU GO