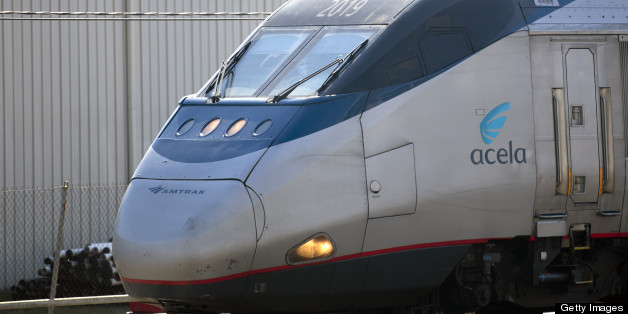 WASHINGTON -- Frequent Amtrak riders love to complain about spotty Wi-Fi, occasional breakdowns and passengers who talk loudly into cellphones. But what could have been another whine-worthy journey turned into a wine-tasting trip for passengers traveling from New York to Washington last week.
When the high-speed Acela Express repeatedly broke down, a French winemaker held an impromptu wine tasting -- in the Quiet Car, no less.
According to Washingtonian, Château Siaurac owner Paul Goldschmidt was scheduled to host an event Friday evening at Calvert Woodley Wines & Spirits. When Goldschmidt realized he'd arrive too late, passenger Janne Nolan said,
Goldschmidt decided to take out his many wines and launch a spontaneous, engaging presentation of his several varieties of excellent Pomerol. Before long, the disgruntled passengers were singing 'La Marseillaise' -- on the quiet car!
Baronne Guichard posted a short video of the tasting on Facebook:
"I'm very sorry, they're a very good shop and they had planned a beautiful tasting, and I'm really sorry not to be able to be with them," Goldschmidt says of his missed Calvert Woodley event in the video.
On a more official basis, Amtrak hosts wine tastings for passengers on some of its long-distance carriers. As HuffPost's Ethan Klapper blogged during his cross-country voyage:
Today, the Builder is one of two long distance trains that Amtrak has upgraded service on. Champagne was passed out to passengers in the sleepers upon our departure from Chicago, and on the second day, Rolando the car attendant did a wine tasting for us -- I even walked away with a complimentary full bottle of wine!
ALSO ON HUFFPOST:
PHOTO GALLERY
BEFORE YOU GO
Virginia Wineries For Sale
PHOTO GALLERY
Virginia Wineries For Sale