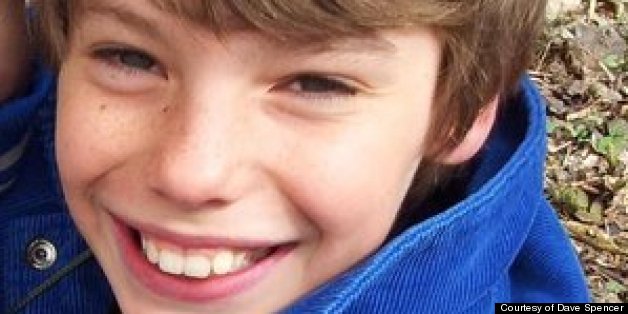 Some kids just can't wait to tear the wrapping paper off their birthday presents.
But Brody Spencer had to be patient to get his hands on the 11th birthday gift his dad, Dave, dreamed up for him. In fact, the elaborate treasure hunt leading to the discovery of that gift was a present in itself.
Dad got lots of attention for his project when he posted photos of the treasure hunt to Reddit over the weekend (even inspiring another Reddit user, nicecoldbeer, to share photos of an impressive pirate-themed treasure hunt he orchestrated for his own kids recently).
"I always used to do crazy cakes for my kids' birthdays but this year I thought I'd mix it up and try something new," Dave told HuffPost over email.
The route he designed for his son involved a treasure map hidden in a pipe under the floor, an ever-so-slightly dangerous river crossing ("the stream was about a foot deep at the most and I was standing nearby," Dave explains) and a chest of money buried under -- what else? -- an "X." It wound through a park near the family's home in Georgetown, Ontario.
"The toughest part was not to be a helicopter parent and actually allow [my son] to struggle a bit with the clues," Dave told HuffPost, admitting he did "give [Brody] a gentle nudge when he was about to run off in the complete wrong direction."
The treasure itself consisted of a box holding $63 in Canadian money -- mostly spare change. "I had no idea how much I put into it until Brody counted it later and [my wife] got mad at me for putting so much money in," Dave wrote on imgur. "Oh well," he added to HuffPost. "The experience for both of us was worth many many times that."
Click through the slideshow below to see photos of the treasure hunt (with captions by Dave):
PHOTO GALLERY
BEFORE YOU GO
Birthday Treasure Hunt
PHOTO GALLERY
Birthday Treasure Hunt