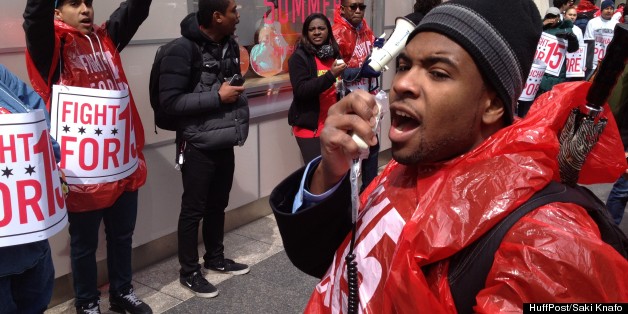 CHICAGO -- When Chris Thomas, 25, started working at the Nike store in downtown Chicago in 2008, he made $10.15 an hour -- at least a few dollars short of what he'd need to move out of his parents' house in Oak Park, Ill.
Over the next two years, his pay rose to $11.17. Then the store shut down for renovations and he and dozens of other workers were laid off. When it reopened last October, Thomas was one of the "lucky ones" who was rehired, he said on Wednesday.
"However, I didn't feel so lucky when I heard I would be getting hired at the bigger, newer, more profitable store for less than I ever made before," he said.
Thomas now makes $10 an hour doing the same job he did five years ago, and he still lives at home with his parents. He was one of dozens of low-wage retail and fast-food workers who walked off the job in Chicago Wednesday, demanding better pay, better treatment and more reliable hours.
"They say we're low-skilled workers," Thomas said. "But we're helping generate billions of dollars in profits. We're not trying to get rich. We just want fair pay for our hard labor."
The day-long strike was inspired by a similar strike by fast-food workers in New York this month, and strikes by New York fast-food workers and Walmart workers around the country last fall.
Since the recession, low-wage work has accounted for more than half of the country's new jobs, far outpacing the growth of jobs that pay middle-class wages. Many corporations are making more money than they did before the downturn, and executives and shareholders have reaped the rewards of that growth, as workers' wages have stayed the same. According to a recent analysis by the AFL-CIO, top executives of the biggest U.S. companies made 354 times what the average worker made last year. Thirty years ago, they made 42 times as much.
Rising inequality is particularly stark in Chicago, where stores along the Magnificent Mile reap millions of dollars in profits while workers, like Thomas, earn barely enough to pay the rent.
"Tourists come into our store from all over the world, and they see this exterior: It looks so glamorous," said Thomas. "The management creates a relaxed atmosphere. We come to work in shorts and running shoes. But things just ain't what they seem. It's really hard in Chicago."
Wednesday's strikes were orchestrated by the Workers Organizing Committee of Chicago, which has launched a campaign calling for a living wage of $15 per hour in the city's fast-food and retail stores. Throughout the day, strikers and organizers marched through downtown, stopping in front of stores that organizers had identified as some of the city's largest low-wage employers.
At one Subway sandwich shop, everyone but the manager walked out, and the store was forced to close. At a Sally's Beauty Supply and a Land's End, no non-managerial workers reported to work and the stores couldn't open.
More workers showed up as the strikers continued along their route. By the time the protesters reached Victoria's Secret, around noon, hundreds of workers had joined the gathering, forming a noisy crowd that packed the sidewalk and stretched the entire length of the block.
Outside the Victoria's Secret, Briel Daniels, a 19-year-old sales attendant there, complained about the store's practice of encouraging workers to buy bras and other lingerie in order to better promote the products to customers. Even at a discount, the bras cost more than most workers can afford, Daniels said. And if workers don't try on the products, management disapproves and takes note, she said.
"They make Victoria's Secret this luxury type of place but we get treated like peasants," she said.
A spokesperson for Victoria's Secret said the company had no comment.
The protesters still only represented a tiny fraction of the 275,000 thousand workers in Chicago who earn the minimum wage of $8.25, or close to it. Organizers hoped the strike would build solidarity among workers and inspire others to join the movement, and there were signs that the march was successful by that standard. At one point, Thomas, the Nike worker, got into a conversation with Matthew Camp, a cashier at a Whole Foods store.
Dressed in a black and white keffiyeh, a black Lenin-style cap, and black combat boots, Camp looked like someone steeped in the history of radical protest, which he was: He said he majored in working-class history in college.
As he spoke with Thomas, Camp evoked his readings of the glory days of the 1960s and '70s, when workers at manufacturing and meat-packing plants in Chicago and other cities commanded middle-class wages. "The reason those jobs paid so well is that people got together like we are now and stood up for themselves," he said.
"We have to start at square one," he added, "relearning the lesson of what it takes to wrangle concessions from our bosses."
Thomas nodded in agreement and the two exchanged phone numbers. Over the din of shouted slogans and a militant snare drum, they made tentative plans to meet up and share ideas for getting more of their coworkers to take a stand.
BEFORE YOU GO
PHOTO GALLERY
10 Things The Fast Food Industry Doesn't Want You To Know