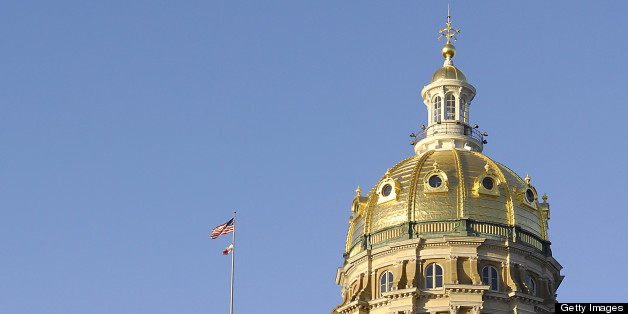 Conservative lawmakers in Iowa say they're seeking to "maintain the balance of power" in government with an amendment that would reduce the salaries of state Supreme Court justices involved in a 2009 decision on gay marriage.
According to the WCF Courier, the amendment would reduce the salaries of four justices who took part in the decision for Varnum v. Brein, which struck down a ban on same-sex marriage in the Hawkeye State. The amendment would put the justices' salaries at $25,000, equal to an Iowa state legislator's pay.
The Iowa Supreme Court ruled voided the state's gay marriage ban in April 2009. The New York Times reported earlier:
The unanimous decision moved the heated battle over same-sex marriage beyond the East and West Coasts to the nation's middle. Only Massachusetts and Connecticut now allow same-sex marriages, while California permitted them for about six months before voters approved a ban in November.

"We are firmly convinced the exclusion of gay and lesbian people from the institution of civil marriage does not substantially further any important governmental objective," Justice Mark S. Cady wrote for the seven-member court, adding later, "We have a constitutional duty to ensure equal protection of the law."
Rep. Tom Shaw (R-Laurens), one of the backers of the amendment, said lawmakers are just living up to their "responsibility" of keeping balance in government.
"We're just holding them responsible for their decision, for going beyond their bounds," Shaw said.
Senate Judiciary Chairman Rob Hogg (D-Cedar Rapids) called the proposal "ridiculous," according to the WCF Courier.
This isn't the first time the justices have been targeted for their decision in the gay marriage case, Salon reports. Groups like the National Organization for Marriage and Iowa for Freedom, which has ties to the American Family Association, have targeted the justices in the past.
Click here for more from the WCF Courier.
BEFORE YOU GO