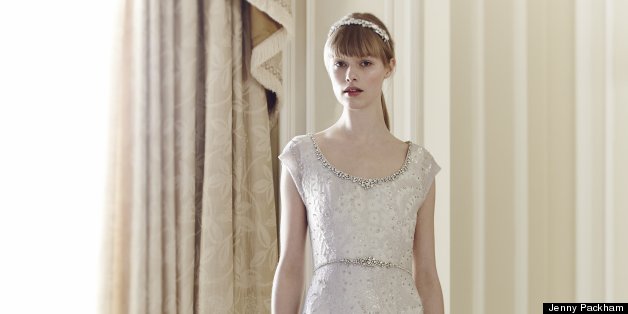 Jenny Packham is one of Hollywood's most adored designers. Her bridal gowns have been worn by the likes of Elizabeth Hurley and Jaime Pressley, and she counts Kate Middleton and Adele among her biggest fans.
HuffPost Weddings was lucky enough to sit down with the busy designer at an event highlighting Laura Mercier cosmetics, TRESemmé hair products and Packham's gowns in Los Angeles last week, where we talked trends and celebrity style.
Read on for highlights from our interview, then click through the slideshow to see Packham's Spring/Summer 2014 collection, which she previewed at New York City's Bridal Market last weekend.
HuffPost Weddings: What are some of the biggest bridal trends you're seeing right now?
Jenny Packham: "Downton Abbey"! I've been completely overwhelmed by the amount of times I've heard [brides mention it]. I think with bridal fashion, it moves very slowly ... so I always enjoy the bridal because it means I can take a style like [from my evening gown collection] and say, "Oh, I can perfect this and take it into bridal" and perhaps it will sell for a few years. We came into the American market about three or four years ago, and then we set up our own office about a year and a half ago, and we've seen a massive increase in sales, and I think things like "Downton Abbey" happen and they sort of shift [bridal fashion] along a little bit. I remember there was a time when everybody had to wear sleeves and then all of a sudden it was strapless. It took a few years to come in, and then it's just been there for so long! It's really nice that we're selling dresses with sleeves again -- it opens up what you can design. I'm seeing much slimmer silhouettes, more sleeves, higher necks, which is lovely.
HPW: Any trends you wish would go away?
JP: Yeah, the really big dresses! I love the way [they] look, but I think I have a weight clearance with dresses. Even the ones we do that are heavily beaded, there's a certain point where you think, "No, that's wrong."
HPW: You've dressed so many amazing women. Who's still on your wish list?
JP: I've always wanted to dress Cate Blanchett because I think she's so stylish. Carey Mulligan, I'd love to dress her. And Nicole Kidman.
HPW: Any favorite brides you've dressed?
JP: I loved dressing Elizabeth Hurley. I thought that was wonderful. She was one of those women who is so aware of how she looks in everything.
Keep in touch! Check out HuffPost Weddings on Facebook, Twitter and Pinterest.