In the advertisement, two men stare down at a miniature circus tent. "Reagan's big tent isn't what it used to be…" the caption reads. "If you don't make the tent bigger, you might as well fold it up and go home."
In small print underneath the cartoon, the Log Cabin Republicans, a gay-rights lobbying group, urges the GOP to "put an end to its obsession with opposing equal rights for LGBT Americans." The ad created by Log Cabin's new director, Gregory T. Angelo, will run as a full page advertisement in Politico on Thursday.
It arrives at a moment of particular tension for the Republican Party. In the past several months, strong signs have emerged that suggest the party is beginning to shift in favor of gay rights: a poll showing that a majority of young Republicans are in favor of legalizing same-sex marriage, a Republican Senator declaring his support after his son came out to him, and a group of more than 100 Republican advisors, politicians and former party officials signing their name to a brief urging the Supreme Court to declare that same-sex couples have a constitutional right to wed.
But the social conservatives that have long dominated party leadership are hardly going with the flow -- just two weeks ago the Republican National Committee gathered in California to reaffirm its official stance opposing same-sex marriage.
For the Log Cabin Republicans, the ad is not only a warning to the party and a call for change, but an effort to remake itself as a more forceful voice within the party.
Story continues below ad.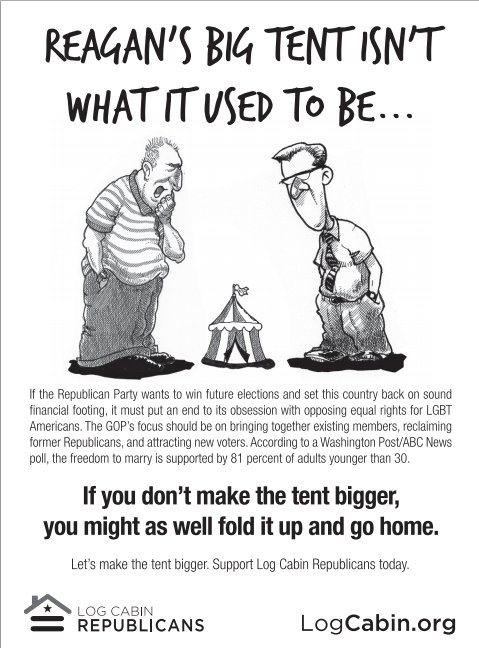 "We have existed for more than 30 years and a lot of that time was driven towards getting Log Cabin a seat at the table," Angelo, the director, told The Huffington Post in a recent interview. "It's not enough."
This week's ad, Angelo continued, is not just intended to ask the RNC to shift on gay rights as an end in itself, but rather because that shift would be a smart political strategy. "We let the party know that we're doing this because we want to win elections, and a winning strategy for the GOP is to be more welcoming to LGBT individuals within the party," he said, and paused. "At the very least they need to abandon the anti-gay rhetoric that only serves as a distraction and turns independents and Republicans off when they get into the voting booth."
Angelo and the Log Cabin Republicans are not alone in thinking that an anti-gay position may serve as a liability for the GOP in the next presidential election. A 97-page report commissioned by the Republican National Committee and released last month makes the same argument. "For the G.O.P. to appeal to younger voters, we do not have to agree on every issue, but we do need to make sure young people do not see the Party as totally intolerant of alternative points of view," the report reads. "Already, there is a generational difference within the conservative movement about issues involving the treatment and the rights of gays -- and for many younger voters, these issues are a gateway into whether the Party is a place they want to be."
Angelo, who was appointed interim director of the group in January, says he was disappointed by the RNC's anti-gay vote in California a few weeks ago, especially in light of the party's own internal report. But Angelo also says he viewed the vote as largely ceremonial and perfunctory. "Still, I'm not oblivious," he said. "When we stick to core issues of low taxes, strong national defense, and reining in government spending, we win. When a very vocal minority of social conservatives ends up railroading the discussion to thrust resolutions that involve same-sex marriage to the foreground, it does damage to everyone who is part of the party.
"What we're trying to do as we forge ahead is find ways that we can push back against that small yet vocal minority that has been pushing back against us."
How well the group is able to do that will depend in part on how much money it can raise. "Log Cabin has suffered from 'no-money syndrome,'" said Fred Karger, a gay Republican and former candidate for the Republican nomination in the 2012 election. "If they can be successful at fundraising along with targeting their battles, they could have a huge impact in getting Republican support for marriage equality and other LGBT issues on the horizon."
Angelo would not disclose any financial details, but assured The Huffington Post that the organization was on "incredibly sound financial footing."