Matt Gilman, who you can see in this video performing amazing tricks on a bicycle, lost his vision in 2004, due to complications attributed to Type 1 diabetes.
Gilman, of Reisterstown, Md., says he was a "pretty good bike rider before I lost my vision."
Following doctors' orders, Gilman stayed bike-free from 2004 to 2006. But, according to his website, that itch to ride never went away.
Gilman told the Baltimore City Paper what it was like to get back in the saddle:
"I pulled my trials bike out and went out to the front curb," he says. "[I thought I could] just track stand and pedal kick over the curb to the sidewalk. Three feet. Which I could do in a heartbeat before. I got on the bike to track stand and I just fell over. I tried again and again and was like, 'I can't even balance on my bike anymore.'A

"I put my bike away and thought, Man that sucked. It was 11 o'clock in the morning, and I was disappointed all day. I was going through a bit of depression, because I was just sitting around, not riding, not working. The next day I was like, 'Screw it.' I pulled my bike out, brought it to the living room, and spent all day learning how to track stand, learning what I had to do to keep my balance. It was a process just learning how to ride again. I had to figure out everything differently than I did with vision.
But with perseverance, it clicked. "Eventually, I was jumping off of things almost head-high," he told the City Paper.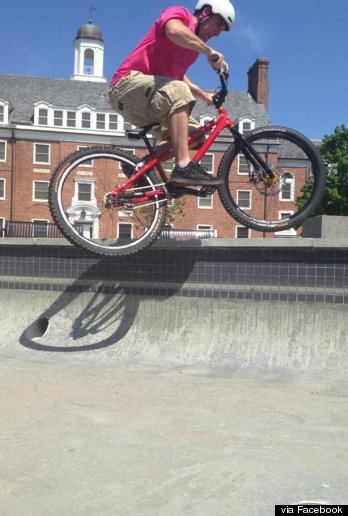 How does he do it? In order to get a feel for a new space, "I kind of paint a picture with my hands, so if I touch something, I'll figure out how far it is from me, which way it's facing and then kind of make a mental picture," Gilman says in the WBAL video. He uses his "tires to feel corners" and maneuver.
These days Gilman does demo rides, and gives motivational speeches. A wide collection of awe-inducing YouTube videos show off his abilities to a larger audience.
Gilman's talents will be on display in person at the American Diabetes Association Tour de Cure bike ride in Howard County, Md. on May 4.
The event, one of many being held across the country, is a diabetes research fundraiser, and is "also an event to inspire people to be healthier and adopt the kind of lifestyle that helps prevent Type 2 diabetes," Kathy Rogers of the American Diabetes Association told WBAL.
Gilman told the station that riding gives him a "sense of freedom," and that he hopes his story inspires others.
"If I'd never lost my vision, I wouldn't be motivating people to do things like I do," he said, "or to take care of themselves."
ALSO ON HUFFPOST:
PHOTO GALLERY
BEFORE YOU GO
What Affects Diabetes Risk?
PHOTO GALLERY
What Affects Diabetes Risk?