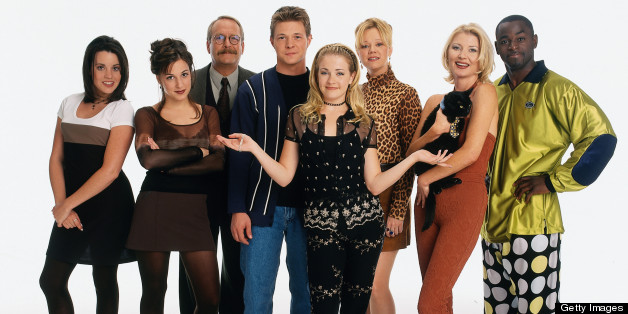 "Sabrina, The Teenage Witch" has been off the air for exactly 10 years now.
The young adult sitcom -- which followed Melissa Joan Hart as the titular Sabrina Spellman, her 500-year-old aunts Hilda (Caroline Rhea) and Zelda (Beth Broderick) and her talking cat Salem Saberhagen (voiced by Nick Bakay) -- made its debut in 1996 as part of ABC's T.G.I.F. lineup.
After four seasons, the network gave the series the axe, but shortly thereafter The WB picked up "Sabrina" -- the then-college-aged witch -- for a fifth, sixth and seventh season. The final episode, which aired on April 24, 2003, saw Sabrina leave her fiance Aaron (Dylan Neal, who -- fun fact -- also played Pacey Witter's older brother Doug on "Dawson's Creek") at the altar and ride off into the sunset with her high school sweetheart Harvey Kinkle (Nate Richert) while No Doubt played in the background.
Over the course of its seven seasons, "Sabrina, The Teenage Witch" saw a lot of its series regulars come and go, from the unexplained departure of Sabrina's Season 1 best friend Jenny Kelly (Michelle Beaudoin) to her college roomates played by two well-known child stars.
Recently, Hart said she could probably be convinced to reconnect with her former "Sabrina, The Teenage Witch" co-stars. "I might consider [a reunion special], but it's always tough to go back," Hart told omg! Insider earlier this month. "It's so tough to go back and make it right, make it really good. You have one shot to get it really right -- everybody always looks older, things have changed ... Those reunions seem so exciting, but in reality I think they don't always work out as well as they seem [like] they will."
Even if Hart's not gung-ho about the idea, The Huffington Post thought it was time to catch up with the "Sabrina, The Teenage Witch" cast, which includes everyone from an Emmy nominee to a pivotal part of the "Lost" cast and even a sports commentator.
Check out the slideshow below to find out where the former "Sabrina, The Teenage Witch" stars are now:
PHOTO GALLERY
"Sabrina The Teenage Witch": Where Are They Now?
BEFORE YOU GO