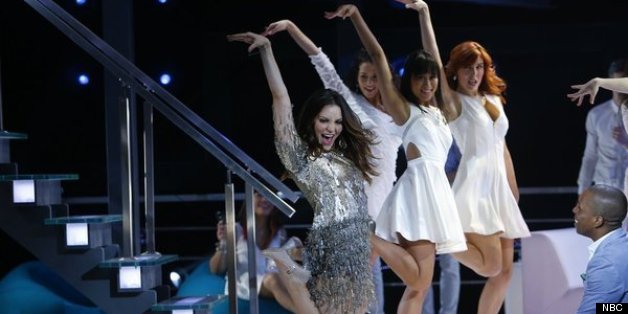 "Smash" is going out with a super-sized Season 2 finale. The musical drama is on the move again, this time to Sunday, May 26, for the two-hour event.
"Smash" originally aired on Tuesdays at 10 p.m. ET, but then moved to Saturdays at 9 p.m. and then to 8 p.m. The fictional Marilyn Monroe musical that was at the heart of Season 1 has officially opened on Broadway and the remaining Season 2 episodes of "Smash" will possibly see "Hit List" get off the ground and the show will head to the Tony Awards.
Here's what's to come: The Saturday, April 27 episode features "Today" co-host Kathie Lee Gifford performing a musical number; the May 4 episode, "Phenomenon," will see "Hit List" and "Bombshell" bond after an unexpected event; and in "The Transfer," the May 11 episode, Ivy is concerned about her reputation and the cast of "Hit List" is rocked by a betrayal.
"Smash" closes up -- possibly for good -- with a two-hour airing starting at 9 p.m. ET on Sunday, May 26.
Here is NBC's official description of the "Smash" finale:
It's a crucial moment for both shows as Tony nominations loom, but keeping your eye on the prize can be hard. As Tom (Christian Borle) crosses an influential Tony voter and Ivy (Megan Hilty) copes with some very distracting news, Derek's (Jack Davenport) past has repercussions for the entire "Hit List" team. On Tony night, the awards might not provide the answers everyone is looking for. As Jimmy (Jeremy Jordan) faces a final reckoning, Tom (Christian Borle), Julia (Debra Messing), Derek (Jack Davenport), Karen (Katharine McPhee), Ivy (Megan Hilty), and most of all, Eileen (Anjelica Huston) wait to see if the ceremony will confirm their place in the Broadway pantheon once and for all. Rosie O'Donnell, Cheyenne Jackson, Ron Rifkin, and Bernadette Peters guest star.
"Smash" airs on Saturdays at 8 p.m. ET on NBC until the two-hour finale, which kicks off on Sunday, May 26 at 9 p.m. ET.
PHOTO GALLERY
Smash Season 2
BEFORE YOU GO