When they learned that their battles with cancer were far from over, teens Tony Colton and Ashley Krueger became each other's biggest supporters.
Ashley, 18, and Tony, 13, first met two years ago at St. Petersburg's All Children's Hospital when they were each handed grim diagnoses, but leaned on each other to get through their grueling treatments, Sarasota Patch reports. Ashley faced Ewing's Sarcoma, a rare bone cancer, and Tony found out that he had Clear Cell Sarcoma of the kidney.
Though their childhoods' were cruelly interrupted, the two managed to help each other stay upbeat and find reasons to laugh throughout their hospital stays.
"These kids have been through so much together that age doesn't matter," Pat Myers, Ashley's mom, told Sarasota Patch, "the bonds are so much closer than the age."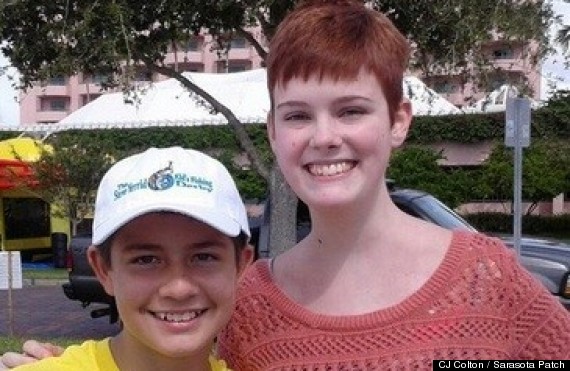 But after the pair thought they had beaten the diseases, each suffered a relapse.
In September, Ashley got the heartbreaking news that she had developed T-Cell Lymphoma, according to MySuncoast.
In addition to having to face more exhausting treatments, Ashley's family –- who was already in debt from the first round -- also had to figure out how they were going to pay for more expenses, including travel and meds, that insurance didn't cover.
That's when Tony stepped in to help.
The caring teen set up a campaign on Give Forward and also organized garage sales and other fundraisers to help Ashley's family get by. He collected nearly $25,000, myfoxtampabay reports.
Tony never expected anything in return, he just wanted to see his good buddy get well.
But when the boy's cancer also recently returned, Ashley -- who's still grappling with her own medical problems –- stepped up to help raised funds for her friend. Tony's family is particularly concerned about this round of treatment since they will have to travel to Bethesda, Md., for the care he needs, according to his Give Forward page.
"Families cannot absorb these kinds of dollar figures on their own and they need our help," Ashley wrote on Tony's page. "This is a favor I wish I never had to pay back. But I do, because Tony is special, important, and a remarkable young man who has fought bravely against his cancer."
Feeling inspired? Donate to Ashley's cause here and Tony's fundraising campaign here.

ALSO ON HUFFPOST:
PHOTO GALLERY
BEFORE YOU GO
Two Teens With Cancer Raise Money For Each Other
PHOTO GALLERY
Two Teens With Cancer Raise Money For Each Other