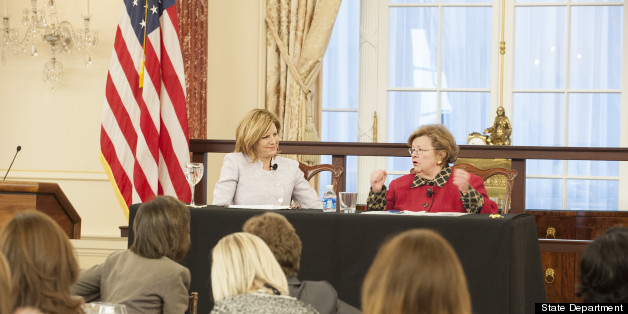 Sen. Barbara Mikulski (D-Md.) said on Wednesday that the women of the Senate had a productive meeting with President Barack Obama this week, telling an audience of female entrepreneurs, "Boy, did we dish it up."
Mikulski made her comments in an interview with journalist Nina Easton at Fortune's Most Powerful Women dinner, held at the State Department.
"The president is a very good listener. It gave everyone a chance to speak ... I say that we women talk about the macro issues -- and we talk about the macaroni and cheese issues," she said, adding that they approach economic issues not only in terms of numbers and charts, but also "from the perspective of the American family, the shrinking of the middle class."
The women of the Senate meet about once every six weeks for dinner, organized by Mikulski, who is known as "the dean" of the female senators. She is the longest-serving woman in Congress, and this year became the first-ever female head of the powerful Appropriations Committee. The senators had their dinner at the White House on Tuesday at the invitation of the president.
Sen. Kirsten Gillibrand (D-N.Y.) told the Associated Press shortly before the dinner that she had suggested the gathering to Obama last year while they were traveling and touring hurricane damage.
"I said, 'As you put together your agenda for this term, if you want a bipartisan, core group of people to start moving legislation, a great way to start is the women senators,'" she said.
There are now 20 women in the Senate, the highest number in history. When Mikulski first came to the Senate, the only other woman in the chamber was then-Sen. Nancy Kassebaum (R-Kansas).
"What I saw then was that women were viewed as a novelty; there were so few of us. There was pressure on us to be celebrities. What we wanted to be was senators," Mikulski said. "And actually, the men weren't quite sure how to do, how to react, and so on. So it was more like, 'Oh my god, what does she want?' Now, in the recent class ... instead of 'oh my god,' it's 'Thank god, they're here!' ... We're now viewed as coming to get the job done, because we do work on a bipartisan basis."
Mikulski added that a double-standard for women still exists in how people talk about personal characteristics.
"When women are firm and direct in their leadership style, they're called 'tough broads,'" she said. "When men do it, they say, 'Oh, he's an up-and-comer.' Well, what am I? And so I think there's a language and perception double standard."
Also in attendance at the Fortune dinner were Sens. Kelly Ayotte (R-N.H.), Tammy Baldwin (D-Wis.), Deb Fischer (R-Neb.) and Jean Shaheen (D-N.H.), as well as Rep. Nita Lowey (D-N.Y.) and former Rep. Jane Harman (D-Calif.).