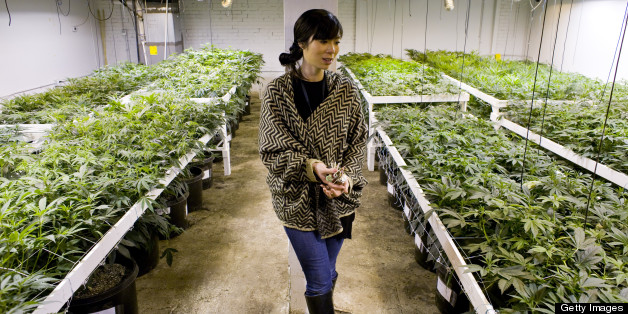 Colorado's medical marijuana shops will get a head start on the application process for retail marijuana licensing.
Lawmakers gave existing medical marijuana shops a nine month exclusive though they lobbied for more time.
The new measure, House Bill 13-1317, was adopted Thursday in a state House committee and would also permit felons to work in the industry after five years.
Anyone wishing to apply for a license in the retail marijuana business and who is not already licensed to sell medical marijuana, will also have to pay a higher application fee.
Earlier this month it was revealed that Democratic Denver Mayor Michael Hancock advised Denver City Council to ban marijuana clubs in the city and wanted to create a two-year moratorium on new pot business licenses.
The Denver mayor, who as a father and a grandparent, articulated his general opposition to marijuana said that he believes the moratorium on business licenses -- which would translate into only existing medical marijuana businesses being able to apply for recreational marijuana sales licenses for two years under his proposal -- would allow the city to set up "rigorous new standards to protect neighborhoods," The Denver Post reported.
Lawmakers have also been considering a 40 percent sales tax for recreational marijuana, with the first $40 million of the excise tax earmarked for public school capital construction, as outlined in Amendment 64.
The city has been on a tight deadline to announce its intent on the regulation of legal marijuana. Amendment 64 calls for regulations to be announced by July 1 of this year and to go into effect by Jan 1, 2014. But the state legislature as yet to come up with set regulation standards and is scheduled to adjourn May 8.
"The people of Colorado deserve better on this contentious of an issue than to rush it through at the end of the session," Representative Brian DelGrosso (R-Loveland) said in an interview with Bloomberg. "It's going to be a stressful last couple of weeks,"
BEFORE YOU GO
PHOTO GALLERY
16 Facts About Marijuana And The U.S. Economy