Tuesday morning, an Islamorada resident called the Monroe County Sheriff's Office to report that a nine-foot crocodile was nesting in her front yard.

Deputies and Florida Fish and Wildlife Conservation Commission officials arrived to find the croc nesting with 27 eggs near the property's white picket fence.
Authorities relocated the reptile, but FWC biologists say "It's quite likely she'll come back to where the nest was. That's natural for female crocodiles," according to the Florida Keynoter.
(Story continues after photos.)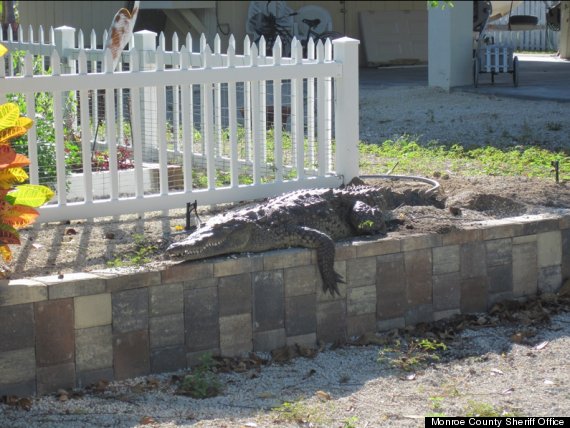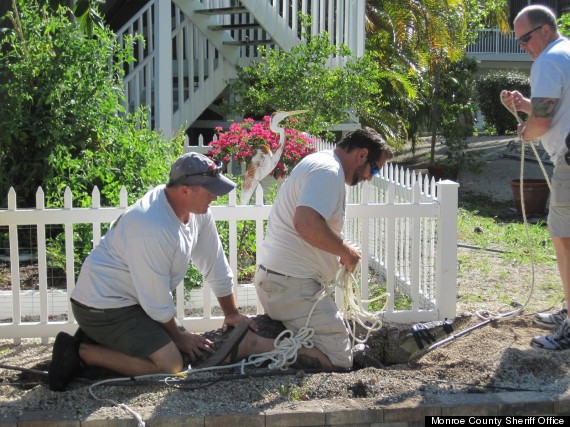 Over the last three decades, the crocodile population in Florida, considered threatened, is making a big recovery.
In 1975, the FWC reports there were only about 300 in the state. Recent stats clock in the current croc population at around 2,000, not including hatchlings.
"What you are experiencing is the return of the crocodile to its historic range," FWC biologist Lindsey Hord told a concerned Islamorada Village Council in May 2012. "We can live with these things. It just requires acceptance of the fact that they are going to be here, and to accommodate that, taking some common sense safety steps."
FWC cites there has never been a crocodile attack of humans in Florida.
Yet in 2011, a couple says they were bitten by a crocodile after capsizing their canoe in the Upper Keys.
FWC officials were unable to confirm that a croc was behind the attack while a University of Florida biologist said it was more than likely a crocodile.
BEFORE YOU GO
PHOTO GALLERY
When Alligators Attack