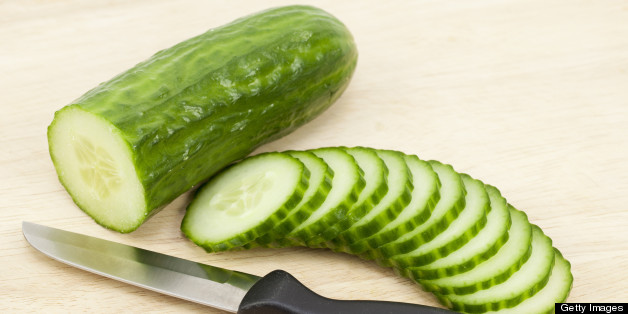 Watch out, cucumber fans: your favorite raw vegetable has been tied to an outbreak of salmonella.
Marler Blog reported on Thursday that 73 people in 18 states have contracted salmonellosis after eating cucumbers imported from Mexico over the past several months. Twenty-eight of those who have fallen ill live in California. Nearly a third have been hospitalized. None have died.
The FDA placed an "Import Alert" on cucumbers from Daniel Cardenas Izabal and Miracle Greenhouse, two suppliers in Culiacan, the largest city in the Sinaloa state of Mexico, on Thursday. The cucumbers were distributed by Arizona-based company Tricar Sales and were "purchased or consumed at multiple locations or restaurants." The CDC says "there is no evidence that contaminated cucumbers supplied by are still on the market."
Though salmonella is most closely associated with chicken, eggs and ground meat, produce has been tied to numerous outbreaks of the disease over the past few years. Fruits and vegetables that are usually eaten raw -- like cucumbers -- pose an especially high risk, since salmonella bacteria are killed by high heat. Indeed, cucumbers were tied to another outbreak of salmonellosis just two years ago.
BEFORE YOU GO
PHOTO GALLERY
The Biggest Food Safety Disasters Of 2012