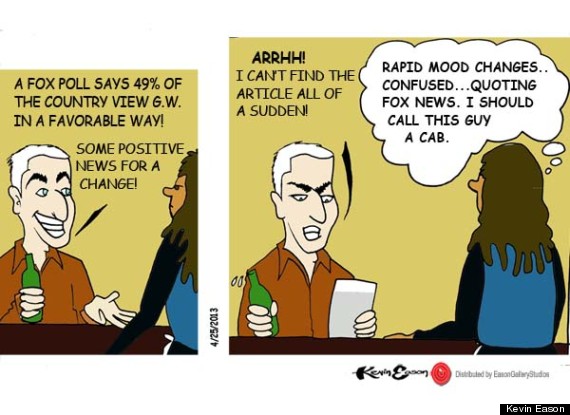 George W. Bush had a pretty rough second term -- the most unpopular in the post-World War II era to be exact. But, according to a recent Fox News poll, the former president has gained a bit of the public's esteem.
With a little more than four years since the Texas-native left the White House, Fox News reportedly found that 49 percent of voters have a favorable view of Bush. An ABC News/Washington Post poll found a slight disparity, with 47 percent of voters approving of the former president's performance.
The news comes along just as Bush's presidential library opens its doors, an occasion that President Obama and former presidents Clinton, George H.W. Bush and Carter came out to celebrate.
But just how accurate is Fox News' poll? The cable station took a major hit this year, with a record low 41 percent of viewers saying they trusted the news source. Cartoonist Kevin Eason isn't one of them, illustrating how Fox News fans are just as trustworthy as drunken bar patrons.
Check out Eason's illustration and share your thoughts in the comment section below.
About the artist:

Kevin Eason is a freelance editorial cartoonist and illustrator from New Jersey. His brand of satire covers news events in politics, entertainment, sports and much more. Kevin's work features include: Gannet, TVOne, Uptown, The Urban Daily, NAACP, Cengage Publishing, Bossip, WBLS_107.5FM, and various newspapers and magazines throughout the country. Follow him on Facebook.
BEFORE YOU GO