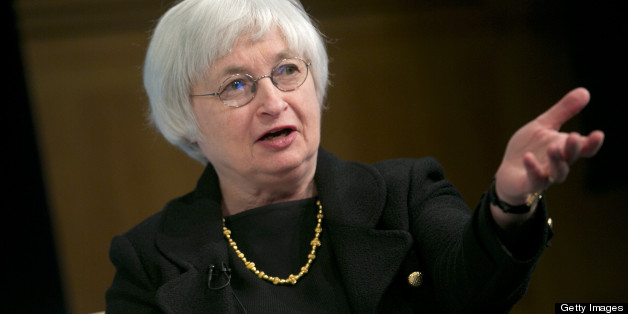 One day soon conservatives won't have Ben Bernanke to kick around any more. Instead, the next Federal Reserve Chairman will likely be somebody who will make them even angrier: Janet Yellen.
Yellen, currently the Fed's Vice Chairman, is the clear front-runner to take the chair when Bernanke's term, his second, ends in January 2014, as the New York Times noted on Thursday.
Though there was some speculation that Bernanke might sign on for a third term, he flagged his sensible lack of interest by planning to skip the Fed's annual confab in Jackson Hole, Wyoming. After eight years of managing an economy in crisis and being threatened with lynching by the likes of Rick Perry, Bernanke is probably about ready to spend a few years doing peyote in the desert or some such.
Near the top of the burlap sack of economists from which President Barack Obama will likely draw his pick for Fed chair, there are a couple of truly undesirable candidates for the job, Larry Summers and Timothy Geithner, and then one desirable one, Janet Yellen. Geithner doesn't seem all that interested, and large numbers of investors and other humanoids shudder at the thought of the infamously prickly Summers in the job. There are a couple of other top candidates that would be more palatable, including former Bank of Israel governor Stanley Fischer and former Fed vice chairman Roger Ferguson, but they have their own issues.
That leaves Yellen, who is currently a 2-1 favorite for the job, according to the bookmaking of the Washington Post's Neil Irwin, author of a new book on central bankers, "The Alchemists."
Yellen's whole career trajectory has been pointing toward this job, and Obama put her in prime position when he made her Vice Chair in 2010. She would be the first woman to run the Fed -- the first woman to run a major central bank, in fact -- which would seem to make her especially appealing to a legacy-polishing Obama.
One knock against her could be her relative lack of experience in dealing with the public. But as anybody who has watched Bernanke stammer and fidget through press conferences and Senate hearings for the past several years can tell you, this is not necessarily a deal-killer.
The bigger potential hurdle for Yellen's nomination could be her Senate confirmation hearings. Republicans are sure to give her the stinkeye over her policy positions of the past several years, in which she has been even more of an advocate for easy money than Bernanke. In every chart of "hawks" and "doves" on the Fed -- those who live in mortal terror of inflation are hawks, while those who worry more about unemployment are doves -- Yellen is always pegged at the most-dovish end of the scale, more of a bleeding heart than even Bernanke. She recently suggested that the Fed could keep up its extraordinary stimulus program known as "quantitative easing" -- buying up bonds to keep interest rates low and pump cash into the economy -- even after unemployment hits the 6.5 percent target the Fed has set.
Conservatives are worried that Yellen won't pay close enough attention to inflation. But unemployment is far more of a problem right now than inflation. In fact, inflation is virtually nonexistent, while the job market is in crisis. That makes Yellen, assuming she can clear the Senate, the ideal candidate for the job.
More fun facts about Yellen:
Birthday: August 13, 1946
Birthplace: Brooklyn, when the Dodgers were still in town and before it got all lame
Astrological Sign: Leo
Appearance, Per The NYT: "slight, white-haired and described by one colleague as a 'small lady with a large I.Q.'"
Anagram: Neaten Jelly
Education: Fort Hamilton High School in Bay Ridge, Brooklyn; undergrad at Brown; PhD at Yale
Past Jobs: Chair, Council of Economic Advisers for President Clinton, 1997 to 1999; San Francisco Fed President, 2004-2010; Fed Vice Chairman, 2010 to present. Various teaching gigs at Berkeley, Harvard, the London School of Economics
Spouse: Berkeley economist George Akerlof. Writing with Yellen, he has interesting things to say about something called "reproductive technology shock."

BEFORE YOU GO
PHOTO GALLERY
11 Lies About The Fed