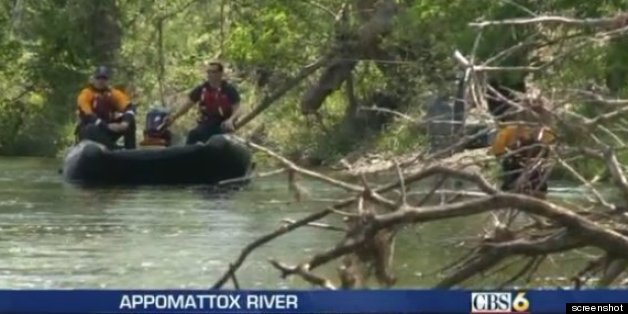 Divers searching the Appomattox River for a missing Virginia State University student recovered a body Wednesday suspected to be that of the 19-year-old freshman.
With the second of the two missing VSU students now apparently found, university officials announced later Wednesday that a "service of remembrance" will be held Friday in their honor.
After five days of intense searching, divers located the second body at 11:16 a.m., about six minutes after a Virginia State Police helicopter crew spotted an area of interest. They notified divers, and a Chesterfield County Fire and EMS crew recovered the still submerged remains.
The body was found about 200 yards downstream from where the two students entered the water early Saturday morning as part of an initiation ritual into a social club, said Chesterfield fire Lt. Jason Elmore.
Although positive identification had not been made as of Wednesday afternoon, Elmore said VSU police, who assisted in the recovery effort, felt confident the body was that of Jauwan M. Holmes, 19, of Newport News.
"We're suspending operations due to the high probability that it is him," Elmore said.
He said Wednesday's recovery effort was aided by the river's lower water levels and the low tide, "which helped quite a bit in terms of visibility from the air."
The recovery occurred two days after divers found the body of Marvell Edmondson, 19, of Portsmouth about 300 yards downstream.
Edmondson and Holmes were among seven VSU students being initiated into a non-university-sanctioned social club called Men of Honor when police said the river's current swept them downriver. Some were pulled to safety and others drifted to shore.
The river crossing was their final task to become members, police said.
Late Monday through early Tuesday, Chesterfield police arrested three men, including two VSU students, and are looking for a fourth in connection with the incident. They are all charged with five counts each of hazing.
Police said the four are members or mentors of the group, which a VSU spokesman described as "an underground, shadow organization" the university refused to recognize about a year go.
The first of the four men charged, James A. Mackey Sr., 35, of the 700 block of Bristol Village in Midlothian, made a brief appearance Wednesday in Chesterfield General District Court. His case was postponed to June 4.
The memorial service for Edmondson and Holmes will be held Friday from noon to 12:45 p.m. in Daniel Gymnasium.
"We continue to hold the families of our young Trojans in prayers," said university spokesman Thomas Reed.
mbowes@timesdispatch.com
(804) 649-6450 ___
BEFORE YOU GO