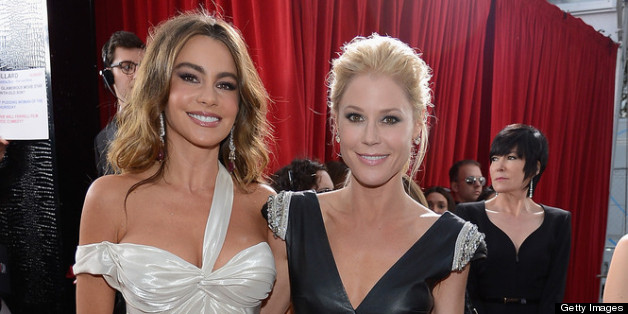 "Modern Family" actress Julie Bowen has a crush on her co-star Sofia Vergara. Can you blame her?
E! News caught up with the 43-year-old at the Mommy & Me Soiree for Baby Buggy in Los Angeles this week and asked the actress about her love for the Colombian beauty.
"Who doesn't?" Bowen said when asked about her crush on Vergara. She continued, "I sort of worship Sofia, though. A girl crush, I feel, is something you would have on somebody you don't know. You know? Like Katy Perry or something, somebody far away. But Sofia I know and see all the time."
"I respect her so much," Bowen added. "She is so comfortable being like, 'I am a woman, yes?' And I am like, pulling up my dress and feeling like my boobs shouldn't be doing whatever they're doing."
This isn't the first time the blond mother-of-three has gushed about her cast mate.
The two met on the set of ABC's "Modern Family" back in 2009. On the show, Vergara is Bowen's stepmother, but in real life they are great friends. Bowen has insisted there is much more to Vergara than meets the eye.
"She really doesn't get the credit she deserves as an actress," she said backstage at the Emmy Awards in September. "She certainly gets it as a celebrity, but as an actress, she really is talented and amazing. There's only a few of us, I think, who really understand that what she does is not just play herself. I love her, I really do. She is a gracious, wonderful woman, and is probably the only reason why I am able to wear a curvy fishtail dress. I owe her a lot."
Both Bowen and Vergara are featured in People magazine's 2013 "World's Most Beautiful" issue, on newsstands Friday.
BEFORE YOU GO
PHOTO GALLERY
Celebrity News & Photos