While learning about the struggles people with brain injuries face, Prince Harry also got to train for his upcoming uncle duties.
Prince Harry visited Headway, a UK charity that helps people living with brain injuries, to open the organization's new headquarters in Nottingham on Thursday, according to the a press release. While there, he met with survivors and partook in a simulation to see what it's really like to recover from such trauma.
Harry spent time with Dominic Hurley, who sustained an injury 19 years ago, and said that because of his one-sided weakness, changing his daughter's diaper often proves challenging. To really get a sense of how difficult such a routine task can be, Harry took to the changing table and put a diaper on a doll using just one hand.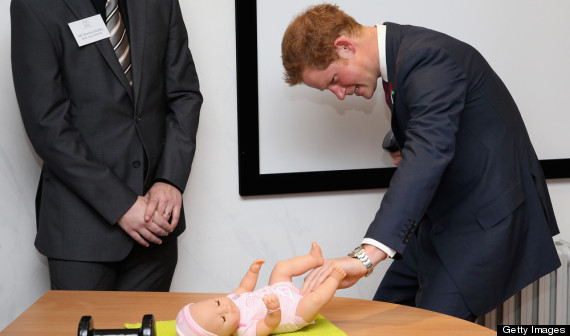 "This is exactly how my brother is going to be," the uncle-to-be said as he struggled, according to the BBC. "All the mothers will be saying 'don't let him near the children.'"
The charitable royal also put on a pair of goggles and wore a glove while trying to identify an object hidden in a bowl of rice to get a deeper understanding of what it's like to live with a brain injury.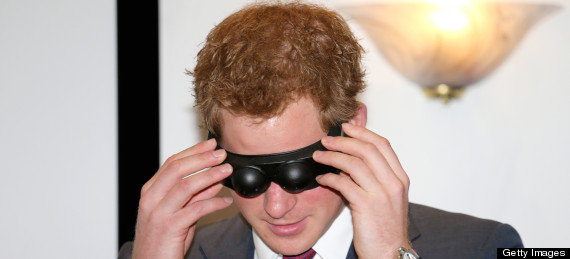 By getting involved with Headway, Prince Harry is helping to continue his late mother's magnanimous legacy. In the 90s, Princess Diana served as Royal Patron for the organization that provides rehabilitation programs, social re-integration, community outreach and respite care.
"Prince Harry was genuinely interested in the personal experiences of the brain injury survivors and carers he met, keen to learn more," Andrew Green MBE, Chairman of Headway, said in a statement. "He asked lots of pertinent questions, which meant a great deal to those he met."
ALSO ON HUFFPOST:
PHOTO GALLERY
BEFORE YOU GO
Prince Harry visits Nottingham
PHOTO GALLERY
Prince Harry visits Nottingham