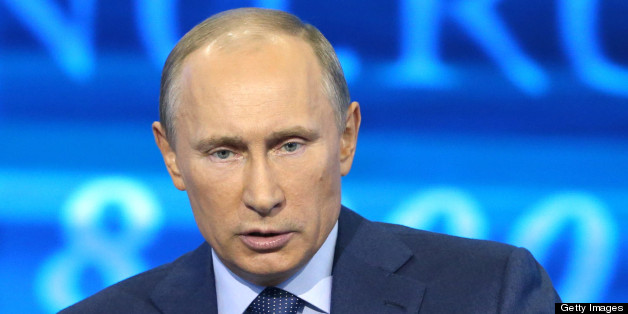 By Timothy Heritage
MOSCOW, April 25 (Reuters) - President Vladimir Putin said on Thursday the Boston bombing proved his tough line on insurgents in the North Caucasus was justified and that Russia and the United States must step up cooperation on security.
After receiving almost 2 million questions from the Baltic Sea to Russia's far east, Putin used his annual "hotline" dial-in to present the image of a man still in control a year into his third term and not afraid of criticism at home and abroad.
"If we truly join our efforts together, we will not allow these strikes and suffer such losses," he said in the phone-in, which critics say is looking increasingly outdated as he fields often predictable questions from loyal factory workers, airforce pilots and struggling mothers.
But this time he made sure there were some critical voices in the audience, with former Finance Minister Alexei Kudrin taking him to task over economic decline. Putin shrugged off his criticism by jokingly calling him a "slacker".
Looking stern and occasionally shifting forward in his chair to make a point, Putin took questions on issues ranging from pensions and roads to the ethnic Chechens suspected of carrying out the Boston Marathon bombings.
He avoided criticising the U.S. failure to prevent the bombings despite Russian concerns about the brothers, but he took the chance to justify using heavy force against Islamist militants who oppose Russian rule in the North Caucasus.
"We have always said that action is needed and not declarations. Now two criminals have confirmed the correctness of our thesis," the former KGB spy said.
Putin, who first asserted his authority by crushing a Chechen independence bid in a war over a decade ago, has long said the United States underestimates the security threat posed by the Islamist militants and rejected international accusations that Moscow's use of force in the region has been heavy-handed.
His remarks underlined his intention to use heightened concern over security to win closer cooperation with the United States in the run-up to the Sochi Winter Olympics next February.
The Olympics are a pet project for Putin and intended as a showcase of what Russia can achieve. A fatal attack on the Games would put those efforts in doubt.
PM'S DISMISSAL UNLIKELY
Putin, 60, was taking part in his first phone-in with the Russian public since returning to the presidency last May after four years as prime minister.
The phone-in, broadcast nationwide, has been an almost annual event since 2001 - he did not do one last year.
Critics say the format has become outmoded and shows Russia has not moved with the times under Putin, who is accused by the opposition of being out of touch and allowing the country to stagnate economically and politically.
But Putin, whose approval rating still hovers above 60 percent, spoke fluently and looked at ease as he reeled off figures and answered questions - all of which he appeared to expect - as he sat at a desk behind a laptop in a suit and tie.
One of his aims was clearly to show he has reasserted his grip on power, which was undermined just over a year ago during the biggest street protests since he first rose to power.
The protests have since dwindled and the opposition remains disjointed although critics accuse him of violating human rights with a clampdown on dissenters.
Putin also used the call-in to play down suggestions that he disagrees with his government over economic policy and show he will not respond to calls to dismiss Dmitry Medvedev, the long-time ally whom he replaced as president last year.
There has been speculation for months in the media and among political analysts that Putin could make Medvedev a scapegoat if Russia's economy continues to slide towards recession.
But in response to a question, Putin said: "There is no division between the government and the president, or the presidential administration (on the economy)."
He acknowledged there may be many complaints about the government's work but, indicating it needed time to prove itself, he said: "The people have only been in their jobs about a year."
BEFORE YOU GO
PHOTO GALLERY
Boston Marathon Explosion (GRAPHIC PHOTOS)