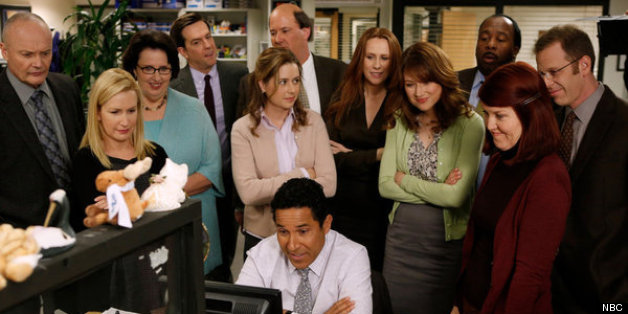 NBC has released some juicy details about the series finale of "The Office."
The network's official description reveals that the episode will take place at a wedding (Dwight and Angela, perhaps?) and mentions that Dunder Mifflin workers of "past and present" will be in attendance.
The description reads: "Months after the airing of the documentary, the workers of Dunder Mifflin, past and present, gather for a wedding and a final round of interviews. Mysteries are solved, hatchets are buried, pranks are prunked."
The listed guest stars include Mindy Kaling, Rachael Harris, Dakota Johnson, Joan Cusack, Ed Begley Jr., Malcolm Barrett, Matt Jones, Andy Buckley, Mike Schur and Bobby Ray Shafer.
Although Steve Carell is not among those listed above, the description will only fuel speculation that a secret Michael Scott cameo is in the works. TVLine reported last week that Carell was on set as the show filmed its final episode, although his reps claimed he did not film any scenes.
NBC will also air a one-hour "Office" retrospective at 8 p.m. ET, leading into the show's final episode.
The one-hour series finale of "The Office" airs Thursday, May 16 at 9 p.m. ET on NBC.
PHOTO GALLERY
The Office Season 9 Photos
BEFORE YOU GO