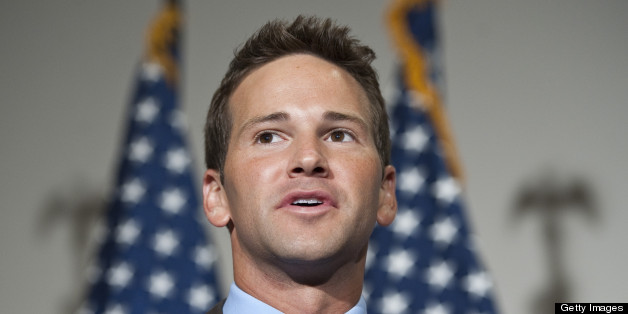 Putting an end to months of speculation that he would seek the Illinois GOP nomination for governor in 2014, U.S. Rep. Aaron Schock has decided to opt out of the race, a top aide said Thursday.
According to Chief of Staff Steven Shearer, Schock ultimately decided he could do more political good for the state in the Republican-led House than in the governor's mansion in Springfield, the Tribune reports.
"It's been up and down," Shearer said of Schock's decision-making for 2014. "He really has strongly considered all aspects of it."
The 31-year-old lawmaker has been pegged among the GOPs most promising rising stars and as the second-youngest member of congress, already serves on the powerful House Ways and Means Committee and the House Administration Committee.
In January, Schock's confidence in his odds of triumphing in Springfield seemed strong: "I think I can make the case to my primary voters that maybe we need to be thinking about who can actually win the general election," the congressman said.
Despite that confidence — and current Gov. Pat Quinn's crumbling popularity — a victory for Schock wouldn't have necessarily been a slam-dunk.
The field for 2014 is already a crowded one for both state Dems and GOPers, and Schock would have faced a tough general election if he prevailed in the primary.
"I do not think he's the right person or qualified to be governor — not even close," rumored GOP challenger Bruce Rauner said in January. As the Sun-Times notes, Rauner has already formed an exploratory committee "stocked with business leaders capable of raising money" for the billionaire.
Cash-wise, NBC Chicago reports Schock had $2.7 million in his congressional campaign fund earlier this year, putting him between Quinn and Illinois Attorney General Lisa Madigan who is also mulling a run.
What's more, Schock has been less-than supportive of (or articulate on) marriage equality in the Prairie State at a time when more and more Illinoisans are in favor of legalizing gay marriage.
Based on an explanation from Shearer, Capitol Fax indicates Schock's increasing seniority in the House may have been the biggest factor in the representative's decision to call off a run for governor, noting "Schock is only two seats away from the halfway point of seniority on the powerful House Ways and Means Committee."
In December, Schock was the subject of a congressional ethics investigation related to super PAC money but told the AP, "We feel confident that I didn't do anything wrong."
With a shot at Illinois' highest office now off the table for Schock, the young lawmaker still owns the title of "America's Fittest Congressman" — no matter what Paul Ryan posts online.
BEFORE YOU GO
PHOTO GALLERY
Illinois 2014 Race For Governor: Candidates Past, Present And Potential
..