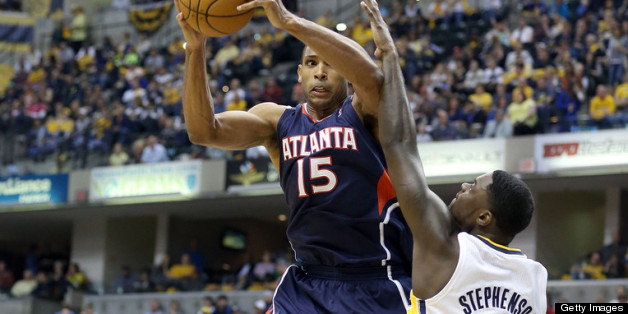 Atlanta Hawks power forward and center Al Horford is a two-time national champion and two-time NBA All-Star. The 26-year-old is also highly involved in the community, most recently with Hampton Hotels and the 24 Boys & Girls Clubs of metro Atlanta -- which he describes as that time that kids are "impressed with how tall I am."
The Huffington Post checked in with Horford just before the playoffs started (the Hawks are currently down 2-0 to Indiana) to discuss the team's lack of defense and his leadership role as one of the league's premier big men.
What is the state of your team right now?
I feel like we're in a good position. I felt we could have done better. We've had a lot of injuries this year and different guys in the lineup, but overall I've felt that we've dealt with adversity very well and positioned ourselves in a good place to make something happen. I mean, we're not playing our best basketball right now ... but I think we'll be fine.
What would be the one thing that needs to improve?
We really have to make a commitment defensively. The last month I've seen some slippage. We've done it at times, not other times. We need to be more consistent as a team defending. I think that when we do that, that's when we're at our best. We have a group of guys and we have to help each other and have each other's back, and for whatever reason we haven't been doing it.
Is that rotations, effort?
Yeah, it all starts with energy. We have to have high energy on defense. But yeah, you hit it on the nail: I think it's rotations and communicating better. I think we're at the point where we're all very comfortable. Sometimes we feel like something should be done, but we're not talking on the court.
When you're that comfortable as a team, can that make it more difficult to get on someone?
No, I mean, it can be. I feel at the end of the day, we all know what we have to do. Sometimes it is hard to, I guess, if somebody is in the wrong, to hold them accountable for it, just because we are a close group. I think that it would be tested for us ... If not, I don't think that we'll be able to do much in the playoffs.
Email me at jordan.schultz@huffingtonpost.com or ask me questions about anything sports-related at @Schultz_Report.