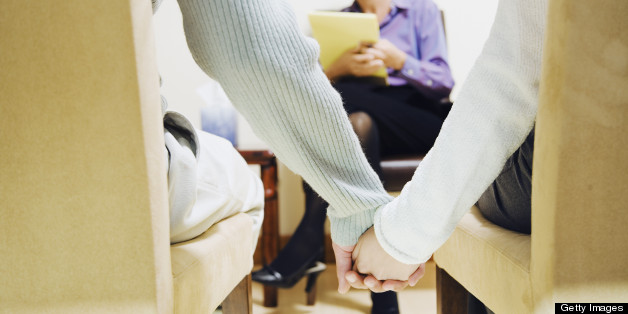 With the introduction of new (and more private) HIV home tests last year, men and women may be moving away from what researchers say is a proven strategy for decreasing rates of HIV: co-testing, when couples agree to get tested together.
"Our culture of testing here [in the United States] is very individualistic," says Patrick Sullivan, a professor of epidemiology at Emory University and the principal investigator on a study designed to expand the practice of testing and counseling couples together for HIV.
His theory -- that co-testing can actually reduce new cases of the virus and increase condom use in relationships where one partner has tested positive -- is one that has proven successful outside of the U.S., Sullivan says.
"The service that we're talking about has actually been offered since the 1980s in Africa, where couples come in together, have a pre-HIV test conversation about risks, get tested together, get their results back together in the same room, and then they have a post-test discussion about results," he explains.
And according to a study published in the Journal of Acquired Immune Deficiency Syndromes earlier this year, the approach does work.
Among 508 HIV-infected participants recruited into the South African Partners in Prevention study, 71 percent of those just learning their HIV status reported practicing unprotected sex, compared to a quarter who knew their status the month prior.
One month later, when all of the participants had received couples' HIV testing and counseling, the proportion of those having unprotected sex fell dramatically, to 8 percent.
Similar programs have been tested among male couples in the U.S., but expanding similar prevention and counseling strategies to heterosexual couples not only requires help from the National Institutes of Health, the CDC and the National MAC AIDS Fund, all of whom Sullivan has partnered with to conduct his research thus far, but also from the communities affected most by HIV.
By recent estimates, African Americans account for 47 percent of all new cases of HIV in the U.S. -- a figure that could be explained by the fact that black adults are more likely than their white counterparts to report having been tested for HIV in the last year.
One figure that's even less clear, however, is how inclined couples, and especially African-American couples, are to test together for HIV. So Sullivan is conducting a survey to find out how to better reach these couples and convince them to get tested.
"In a few different ways, we're trying to get data from folks who are in relationships with the opposite sex -- married or living together or dating -- and ask some questions about whether they'd be interested in a service where they could test with their partners," Sullivan says.
His recently launched online survey, called the Couples Sex Agreement survey, aims to inform the design of HIV counseling services. It introduces the idea of co-testing and asks respondents how likely they might be to get tested. "If they say they're not likely to do that, then we ask them questions about the barriers," Sullivan explains.
The survey also addresses another issue that often comes up in couple's counseling: sexual agreement.
"Do they have an agreement towards monogamy, where the intention is only to have sex with each other? Or is there some other understanding that they have?" Sullivan says. "This is a critical part of how couples can develop a plan to deal with HIV in their relationship. This comes into play when a couple has maybe met, is having sex protected by condoms and they want to test together, learn each other's status and stop using condoms."
"It's important at that point to make sure they're on the same page," he adds, noting that while common, unspoken agreements simply may be insufficient.
The one-time Couples Sex Agreement survey is being conducted online and does not log any information that would identify participants. Click here for more info.