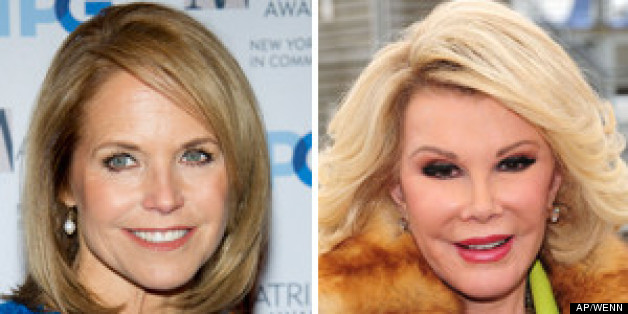 Joan Rivers is reportedly "furious" with Katie Couric after an appearance on the daytime host's talk show did not go according to plan.
The New York Daily News reported on Friday that Rivers and her daughter Melissa joined Couric on the set of "Katie" for what the comedienne thought would be a lighthearted pre-Oscars show. Couric reportedly asked Rivers some tough questions that irked her so much that part of the interview did not air.
A source close to Couric told the Daily News, "Katie loves Joan. Anyone who watched the show saw that Katie and Joan had a fun, spirited back-and-forth. This wasn't anything unusual."
Couric is known for asking tough questions, a style most notably on display during her infamous interview with Sarah Palin during the 2008 presidential election. It's also a little odd that Rivers would be "furious" about some questions that veered away from sweetness. After all, she's known for her never holding back. Just last month, for example, she appeared on HuffPost Live and made some very loud, and very profane, comments about Ann Curry.
BEFORE YOU GO
PHOTO GALLERY
Katie Couric's Style Evolution