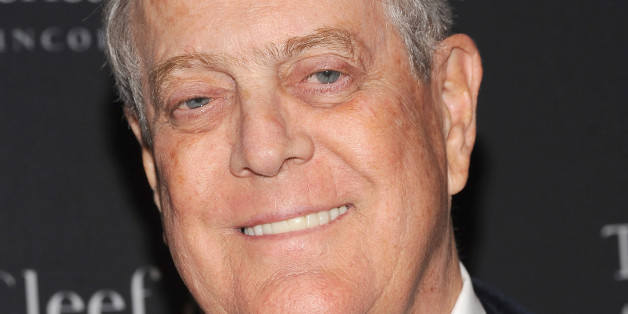 NEW YORK -- In a July 2010 profile, David Koch told New York magazine that the "radical press is coming after me and Charles," a reference to his older brother and other half of the billionaire duo that's given tens of millions of dollars to conservative and libertarian causes.
"They're using us as whipping boys," Koch said.
Now the Koch brothers are considering buying a stake in the press as Tribune Co. emerges from bankruptcy and prepares to sell eight regional newspapers, including the Los Angeles Times, Chicago Tribune, Baltimore Sun, and Hartford Courant.
Koch Industries is renowned for a combative relationship with the national media, on several occasions declining to engage with reporters before an article runs and then pushing back aggressively online after publication. There's no precedent for how the Kochs would run major regional newspapers, leaving at times strained interactions with journalists as one glimpse into the billionaire brothers' perspective on the role of the Fourth Estate.

"We all felt completely disrespected and attacked," David Sassoon, publisher of InsideClimate News, told The Huffington Post of his outlet's experience covering Koch Industries. "They were engaging in what looked to us like media intimidation. I've never had that experience, ever."
The LA Weekly first reported news of the Kochs' possible interest in Tribune newspapers last month. But a Sunday front-page New York Times story describing a strategy of using media to promote free-market policy ideas prompted Tribune journalists to speak out, both anonymously and on the record. Clarence Page, a liberal Chicago Tribune columnist who opposes Koch ownership, said the Kochs "seem to be coming in upfront with the idea of using a major news media as a vehicle for their political voice."
This week's outcry is reminiscent of Wall Street Journal staffers' fears in May 2007 as Rupert Murdoch, the conservative mogul behind Fox News and the New York Post, bid for the august broadsheet parent-company, Dow Jones. While the Journal's framing of political and policy stories sometimes tilts more to the right, journalists' worst fears of right-wing tabloidization of the newsroom never came to pass. But the response to Koch ownership is different six years later in that journalists are now pining for Murdoch.
"Murdoch, for all his flaws, is a newspaper man. The Kochs are not," a Chicago Tribune journalist told media writer Jim Romenesko. "I have no faith in their belief in the importance of a free and robust watchdog press. Frankly, such a press seems antithetical to their goals and harmful to their influence in the political process."
Steven Pearlstein, a Pulitzer Prize-winning Washington Post writer, suggested Thursday that Tribune Co. staffers band together to oppose any sale to the Kochs.
While it's likely many journalists in cosmopolitan cities, such as Los Angeles, don't share the Kochs' politics, journalists' concerns go beyond ideology to intentions. Surely, the Kochs would want to promote their libertarian views on the Tribune Co. papers' editorial pages, but do the Kochs respect the division between news and opinion?
One Tribune Washington staffer told The Huffington Post that members of the newsroom want "an ownership that at least respects what we do."
"To the extent they've been adversarial with the media, with journalists," the staffer said of the Koch brothers, "there's a fear that could come into play."
Tribune Co. staffers aren't unreasonable and would surely expect the Koch brothers -- not unlike New York Times publisher Arthur Sulzberger -- to insure the editorial pages represent their political perspective. Indeed, the Chicago Tribune's editorial board is already center-right, despite twice endorsing Obama. In addition, journalists at the company's newspapers understand the difficulty in finding anyone willing to drop over $600 million on newspapers given the gloomy state of the industry.
James O'Shea, a former top editor at the Los Angeles Times and Chicago Tribune, and author of a book detailing Tribune Co.'s financial collapse, told The Huffington Post that there's not a long list of deep-pocketed buyers willing to buy all the company's newspapers at once. If the Koch brothes were to buy the Tribune Co., O'Shea said he thinks "they'd have to set up an editorial independence operation so people would have some assurance they're not trying to influence the newsrooms and the newsrooms stay independent."
Koch Industries hasn't confirmed the company's interest in the papers, but addressed the issue of journalistic independence in a statement: "As an entrepreneurial company with 60,000 employees around the world, we are constantly exploring profitable opportunities in many industries and sectors. So, it is natural that our name would come up in connection with this rumor. We respect the independence of the journalistic institutions referenced in the news stories, but it is our long-standing policy not to comment on deals or rumors of deals we may or may not be exploring."
Koch Industries did not make a representative available to discuss the company's media strategy, which can be glimpsed by way of KochFacts.com, a site established by Koch Industries in spring 2010.
"The partisan writers at Mother Jones have consistently gone out of their way, even in the face of facts, to disparage Koch," read a Tuesday post on KochFacts.
In February, KochFacts alleged "inaccuracy and journalistic misconduct" by Politico chief investigative reporter Ken Vogel and described the journalist as "a former employee of the left-leaning George Soros-funded Center for Public Integrity." While mentioning Soros –- and thus suggesting strong ties to the billionaire liberal benefactor -– KochFacts didn't note that Vogel previously worked at The News Tribune in Tacoma, Wash; the Times Leader in Wilkes-Barre, Pa.; and spent the past six years reporting at Politico, where this reporter also once worked. The suggestion, of course, is that Vogel is potentially biased against the Kochs.
KochFacts also published emails between Vogel and Koch director of external relations Rob Tappan, a former State Department official and public relations veteran who's worked with such clients as controversial military contractor Blackwater. KochFacts has posted links to several related posts on conservative sites, including "Kochs Take On Politico" (Washington Free Beacon), "Politico Smears, Can't Back It Up" (Powerline), and "Politico's Koch Brothers Obsession Marches On" (Breitbart News).
Previous KochFacts posts have taken issue with coverage in The New Yorker, The New York Times, The Washington Post, The Independent (U.K.) and InsideClimate News, which recently won its first Pulitzer Prize.
Sassoon, of InsideClimate News, said he was "shocked by the aggressiveness of [Koch Industries'] approach, their refusal to speak with us, and their lack of transparency."

Koch Industries took its criticism of a 2011 InsideClimate News piece suggesting the Koch brothers would be big winners if the Keystone XL pipeline was approved straight to the Reuters news service, which carried the environmental news site's work. "They were pressuring them to drop us as a content partner," said Sassoon, adding that Koch Industries "took out ads personally attacking me."
Similarly, Koch Industries sent a letter to the American Society of Magazine Editors in 2011 to argue that The New Yorker's Jane Mayer shouldn't be considered to win a National Magazine Award for a nearly 10,000-word piece on the brothers' political donations.
While David Koch didn't speak to Mayer, he spoke after the New Yorker piece ran to Elaine Lafferty for a sympathetic Daily Beast article. the Daily Beast later disclosed in an editor's note that Lafferty had worked as a consultant for the McCain-Palin campaign. Later, the New York Post's Keith Kelly revealed a "smear plot" against Mayer, albeit one not directly tied to the Kochs.
Regarding potential Koch ownership of Tribune Co., Mayer told The New York Times that "so far, they haven't seemed to be particularly enthusiastic about the role of the free press, but hopefully, if they become newspaper publishers, they'll embrace it with a bit more enthusiasm."
Some journalists have had better experiences covering the Kochs, who have provided access for a few notable pieces over the past six months, including a Forbes cover story and Wichita Eagle series.
Daniel Fisher, who penned the Forbes piece, said the Kochs are "willing to speak to anyone who's willing to treat them fairly." Fisher noted that Forbes covers "entrepreneurial capitalism and these guys are good at it, [so] they're willing to spend the time talking to us."
Fisher spent time walking through Koch Industries' facilities and spoke for two hours with Charles Koch, an experience that left him "mystified by some of the media portrayals."
Other reporters said they would like that level of access in order to provide, perhaps, a more rounded view of the hugely successful pair of businessmen and benefactors.
New York Times reporter Jim Rutenberg tried unsuccessfully to engage with the Koches before writing a July 2012 story, which later drew criticism on KochFacts and led to the publication of emails between Tappan and the Times.
Rutenberg acknowledged that "there does seem to be a pattern where they don't want to speak, and then afterward, they say they wished they had a chance to speak." Rutenberg noted the benefits of engaging with reporters for those taking an outsized role in the political process, citing conservative billionaire Foster Friess as one political benefactor who's done just that.
"He's perfectly happy to spend tons of his money on the political process and talk about it," Rutenberg said of Freiss. "He doesn't become a caricature. We understand where he's coming from."
ALSO ON HUFFPOST:
What A Koch-Owned LA Times Might Looks Like
Many are buzzing about the recent news of the Koch brothers' interest in buying a stake in the press. We discuss the future of local news & media outlets funded by private groups.
517763747