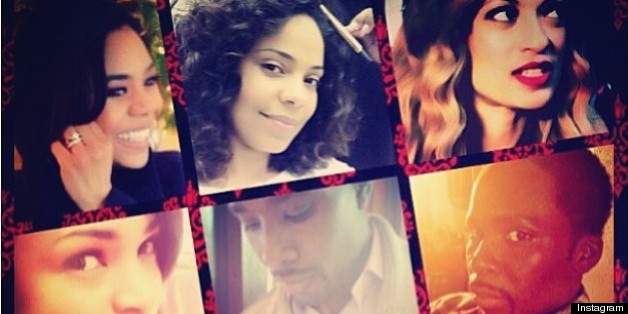 If you follow Sanaa Lathan on Instagram you may be just as excited about "The Best Man" sequel as we are.
The actress has been sharing photos of her fellow cast mates on the social network for the last couple weeks, and it has us waiting with baited breath for the upcoming "The Best Man Holiday." The whole cast is on board reprising their roles in the film, which is set 15 years after the original.
During an interview with The Huffington Post, actor Morris Chestnut shared a bit of what fans can expect from the movie.
"It's going to be a movie to where I think people are going to experience the whole gamut of emotions," he said. "I think they're going to laugh, and I think they're going to cry. There's a lot of stuff going on in this movie. It's a fun movie, don't get me wrong, but there's a lot of heartwarming moments, some realization with some characters. There's a lot in this movie."
Even Terrence Howard said he gets teary-eyed thinking about it.
And so do we! The thought of all the beautiful ladies and of course the fine men reviving the story lines of Harper, Jordan, Lance and more has us over the edge with anticipation.
So for those of you that are just as excited, we've pulled together some of the photos Sanaa Lathan has been teasing us with on Instagram. Check out the slideshow and share your thoughts in the comments section below.
BEFORE YOU GO
PHOTO GALLERY
Sanaa Lathan's 'The Best Man' Sequel Teasers