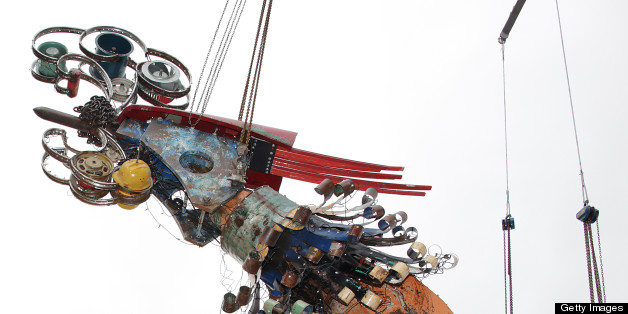 WASHINGTON -- "This exhibition is very special," Chinese artist Xu Bing says by way of introducing his new display at Washington's Freer and Sackler Galleries. "It seems small by museum standards but it's a lot."
Xu is referring to "Nine Deaths, Two Births," an Arthur M. Sackler Gallery exhibit opening today. "Nine Deaths, Two Births" traces the evolution of Xu's newest work, "Phoenix Project," a massive installation featuring two 12-ton, 100-foot-long phoenixes built with Beijing construction site debris.
Take a peek at "Nine Deaths, Two Births":
PHOTO GALLERY
"Nine Deaths, Two Births"
While the actual "Phoenix Project" is on display at the Massachusetts Museum of Contemporary Art, "Nine Deaths, Two Births" traces the artistic process from conception (the installation was originally commissioned for the lobby of a Beijing office building) through execution. It's an exhibit meant for the "virtual world," Xu says. We can "combine two exhibitions two places in the virtual world."
Walking into the small exhibit space, visitors encounter phoenixes as shown throughout Chinese history, from fine pottery and silk tapestry to an ornate pearl headdress. These objects stand in stark contrast to Xu's gray scale models and images of the two finished phoenixes, crafted by Chinese migrant workers from construction site waste.
"My two phoenixes are quite different from all phoenixes in history," Xu says. "They can only be produced in the context of... globalization."
The exhibit "shows ups and downs of the artist's creative process," Freer and Sackler assistant curator Carol Huh says; indeed, "nine deaths" in the exhibition's title refers to the many setbacks Xu encountered with this project, which took two years instead of a projected four months. On one wall is a framed notice from the Chinese government to stop construction during the Olympics; in the center of the room, a phoenix model is slightly broken, an accident that happened in transport from Beijing to Washington.
A short documentary film explains the project in the artist's own words and is worth watching for more background.
"Nine Deaths, Two Births" is on display at the Arthur M. Sackler Gallery through September 1. Xu's "Monkeys Grasping For the Moon" has been a fixture at the Sackler Gallery since 2001.
The "Phoenixes" will be on display in Massachusetts until November, when the installation moves to New York City's Cathedral of St. John the Divine.
BEFORE YOU GO