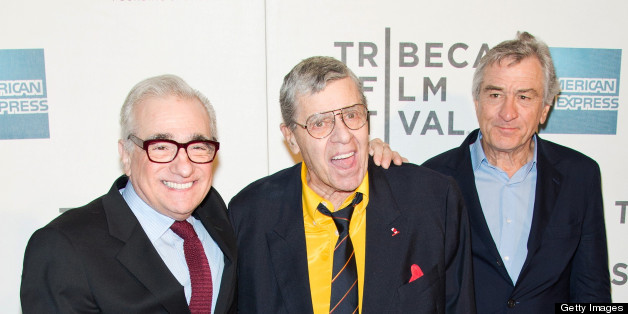 Robert De Niro was crowned king of closing night at the 2013 Tribeca Film Festival. The New York-based film fest, which De Niro co-founded in 2002, ended its 12th incarnation with a special screening of "The King of Comedy," Martin Scorsese's 1983 black comedy about a celebrity-obsessed comedian (played by De Niro) and the lengths to which he goes to achieve fame.
"I haven't seen 'The King of Comedy,' I don't think, for at least 25 years," De Niro, 69, said before the screening at the Borough of Manhattan Community College on Saturday night. "I'm very curious to see it. If I'm not too embarrassed, I'll stay here after."
Fortunately for the attendees, De Niro did stay, as did Scorsese and co-star Jerry Lewis. The trio sat down with screenwriter Ted Griffin ("Ocean's Eleven") for a 30-minute discussion about the classic ... comedy?
"It wasn't a comedy, was it?" Scorsese, 70, said after the screening, before admitting that he never intentionally tried to make "The King of Comedy" funny.
The film, which was restored by Scorsese with help from his long-time editor and confidant Thelma Schoonmaker for its 30th anniversary, focuses on Rupert Pupkin (De Niro), a mustachioed wannabe comic who fixates on late-night host Jerry Langford (Lewis). "The King of Comedy" tracks the pair's unlikely relationship, as Rupert attempts to fulfill his dream of appearing on Jerry's popular show. Despite earning just $2.5 million at the time of its release, Scorsese's film has grown in esteem over the years, owing to its oddball mix of humor and pathos, De Niro's incredible lead performance, and the prescient way "The King of Comedy" imagined the current era of infamy as fame.
"[People say,] 'Were you aware that you were commenting on the culture?' No," Scorsese said. "I mean, we knew we were commenting on the culture of that time, but not thinking that it would blow up into what it is now."
Sandra Bernhard, who made her screen debut in "The King of Comedy" as another one of Lewis' onscreen stalkers, was unable to attend the Tribeca screening, but she did record a taped message about that legacy -- and managed to sneak in some anecdotes about her experiences with Lewis on the film's set.
Marty, Bobby! It was just yesterday that we took over New York City in the summer of 1981, and the day you discovered me was the day my life changed and everything fell apart. Look at where I am now: nowhere! Thanks a lot, you son of a bitch. Hey, remember when Jerry Lewis called me "fish lips"? That was a great moment on the set. The next day he brought me a hand-written apology letter. I coveted that letter, but by the end of the day it was missing. I figured, "He probably stole it back so no one could accuse him of ever apologizing." Look at the world we're living in; it's a shit show! Whatever we predicted in "The King of Comedy" went so far beyond our wildest expectations that it seems almost homespun. We started filming on the night of my 26th birthday: June 6, 1981. What a birthday present. It's the gift that keeps giving. I love you all. I wish I could be there, but I am.
Bernhard's video was met with uproarious laughter from the crowd, but that didn't deter Lewis, 87, from doing some roasting of his own. The veteran comic joked that Bernhard was "the reason for birth control," before then referring to her as a "wonderful guy."
The ribbing didn't stop with Bernhard, however, as eventually both Scorsese and De Niro were also caught in Lewis' line of fire.
"Did Bobby do a film after this one?" Lewis said, mocking De Niro's prolific output since "The King of Comedy," some 65 credits over the last 30 years. "I've seen him on every plane trip."
Of Scorsese, Lewis said that the director laughed so much during filming that it sometimes impeded their work.
"We heard you sitting behind the camera hysterical," Lewis recalled. "I said, 'Are you going to continue laughing or are you going to cut this goddamn scene?'"
Scorsese, meanwhile, recalled that Lewis would often disrupt scenes himself with a rubber chicken. No chickens appeared during the post-screening discussion, but Lewis did produce a red clown nose from one of his pockets. Later, when asked about Bernhard again, he declined to discuss the actress, instead sucking a glass up to his face to cover his mouth.
As for De Niro, the two-time Oscar winner seemed pleased with "The King of Comedy," despite his earlier reservations.
"I do look at it in a different way. I think Jerry was terrific," he said about watching the film for the first time in a quarter-century. "The stuff that Marty did as well; It was great to watch. When I watch a movie 25 or 30 years after I do it, I can get a little objectivity. Some."
Added Lewis: "Tonight, he's going to see 'The Deer Hunter.'"
WATCH: In this clip from the closing night conversation with Jerry Lewis, Martin Scorsese and Robert De Niro, Jerry Lewis talks about the freedom of ad-libbing on set and one particularly famous scene that was entirely improvised. Moderated by screenwriter Ted Griffin. For more, hit the official Tribeca website.
PHOTO GALLERY
Tribeca Film Festival 2013
BEFORE YOU GO