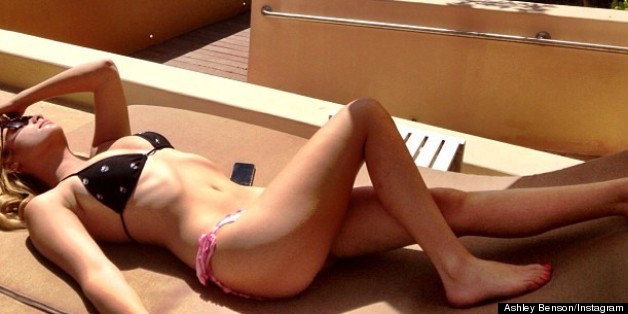 "Spring Breakers" stars Ashley Benson, Selena Gomez and Vanessa Hudgens all agreed they were ready to burn the fluorescent bikinis they wore for two months straight after they wrapped filming in Florida last year -- but we're guessing enough time has passed that Benson doesn't mind wearing a tiny two-piece once again.
On Sunday, the 23-year-old posted photos of herself soaking up the sun in a black bikini top with pink bottoms. The "Pretty Little Liars" star was a special guest at the second annual Riviera Maya Film Festival in Mexico, and judging by the photos, it looks like she made time to relax and chill out.
"Finally getting a tan," she wrote along with a photo of herself sprawled out by the pool.