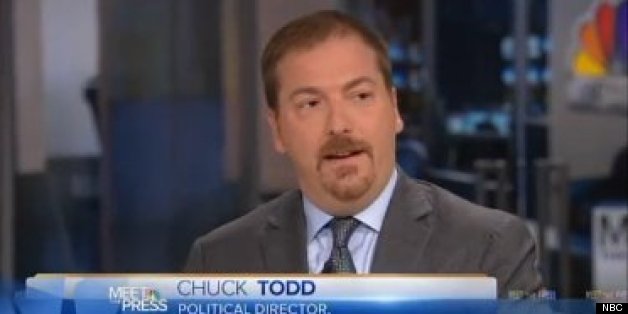 Chuck Todd weighed in on President Obama's remarks from the 2013 White House Correspondents' Dinner during Sunday's "Meet The Press," and seemed to take part of the president's speech to heart.
"He wasn't very complimentary of the press," Todd said of Obama's comments at the end of his speech. "There's always this part at the end ... and it's usually the part where the presidents say, 'You know I think that the press has a job to do and I understand what they have to do.' He didn't say that," Todd said.
He continued, "I thought his potshots -- joke-wise and then serious stuff -- about the Internet and the rise ... of social media. He hates it, okay? He hates this part of the media, and he really thinks that this sort of buzzification — this isn't just about BuzzFeed or Politico ... but he thinks that this sort of coverage of political media has hurt political discourse. He hates it. And I just think he was trying to make that clear last night."
Obama ended his speech on a serious note. "Those of us in this room tonight, we are incredibly lucky," he said. "The fact is we can do better. All of us. Those of us in public office. Those of us in the press. Those of us who produce entertainment for our kids. Those with power. Those with influence. All of us, including myself, we can strive to value those things that I suspect led most of us to do the work that we do in the first place. Because we believed in something that was true. We believed in service and the idea that we can have a lasting positive impact on the lives of the people around us. And that's our obligation. That's a task we should gladly embrace on behalf of all those folks who are counting on us, on behalf this country that's given us so much."
Obama cracked jokes about all the cable news networks, but turned to a serious note when he praised the work of the Boston Globe after the marathon bombing attacks earlier this month. "If anyone wonders if newspapers are a thing of the past, all you need to do is pick up or log on to papers like the Boston Globe," he said.
BEFORE YOU GO
PHOTO GALLERY
Media Stars Shine At 2013 WHCD Parties