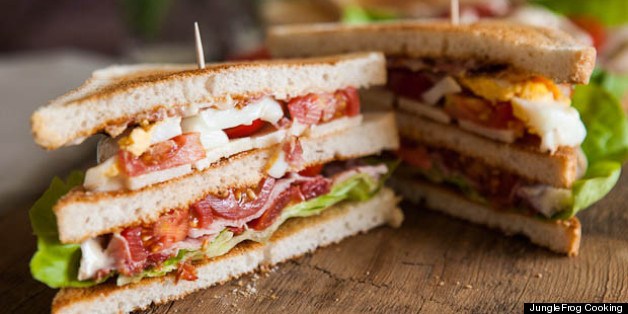 Is there anything more uniquely American than stacking a sandwich on top of another sandwich? The club sandwich is one of those stalwart diner classics that you can count on being delicious just about anywhere. Usually a double-decker concoction layered with turkey, bacon, lettuce, tomato and mayo, it kind of just begs to be tinkered with. As we've probably already told you, our favorite turkey club sandwich of all time lives at Brooklyn's Court Street Grocers. That version, which includes a layer of turkey confit that takes about 24 hours to cook, is best eaten there, unless you're really committed to a multi-day turkey club project at home.
But really, to be a club, a sandwich must only have multiple layers, be incredibly decadent and usually (although not always!) include bacon. We scoured the internet for our favorite riffs on the turkey club, from savory to sweet, and pulled them together for you today. Some, like the lovely smoked salmon club, we were prepared to find. Some, like the PB&J club totally blew our minds. What's your favorite take on the club sandwich?
Want to read more from HuffPost Taste? Follow us on Twitter, Facebook, Pinterest and Tumblr.
PHOTO GALLERY
BEFORE YOU GO
Club Sandwich Recipes
PHOTO GALLERY
Club Sandwich Recipes