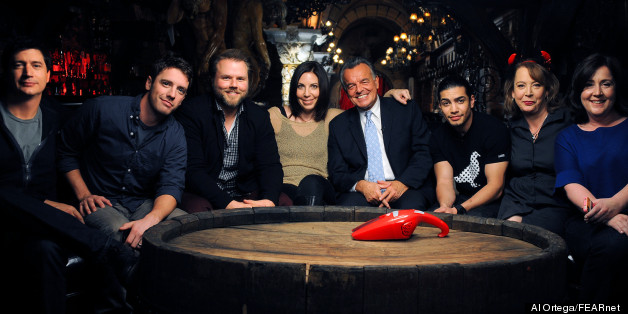 The "Reaper" cast gathered on Wednesday, April 24 to film the reunion that fans of the beloved The CW series have been waiting for.
"Reaper," which starred Bret Harrison as Sam Oliver, a college drop-out forced to become a bounty hunter for the Devil (Ray Wise) as part of a deal his parents made long ago, lasted for 31 episodes from 2007 to 2009.
Angie Greenup hosted the "Reaper" reunion, which included stars Harrison, Wise, Tyler Labine, Rick Gonzales, Ken Marino, Christine Willes and series creators Tara Butters and Michele Fazekas. The "Reaper" reunion will air on FEARnet on Tuesday, May 28 at 9 p.m. ET. FEARnet will also air the entire series with reruns debuting on Tuesday, June 4 at 9 p.m. ET.
Look for the cast to share on-set anecdotes, favorite moments form the show and inside info -- like the fact Louis C.K. auditioned for the role of the Devil -- and discuss the possibility of a Kickstarter campaign to resurrect "Reaper."
"I'm so happy that FEARnet is doing this," Wise, who won the part of the Devil on "Reaper," said in a statement. "It really warms my heart having us all back together again."
Take a peek at some exclusive photos from the "Reaper" reunion below.
The reunion airs on Tuesday, May 28 at 9 p.m. ET and reruns debut on Tuesday, June 4 at 9 p.m. ET on FEARnet.
PHOTO GALLERY
BEFORE YOU GO
Reaper Reunion
PHOTO GALLERY
Reaper Reunion