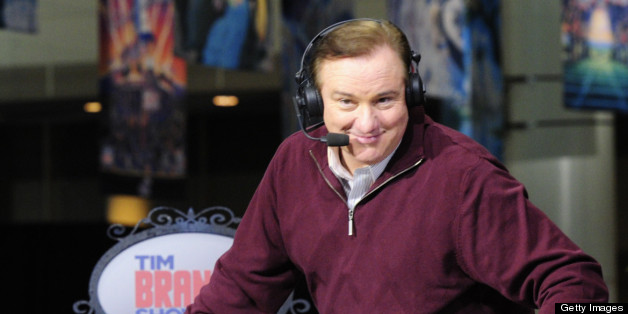 According to Tim Brando's dictionary, Jason Collins is not a hero.
With Collins' decision to come out and his eloquent editorial for Sports Illustrated dominating conversation in the sports world on Monday, the CBS play-by-play announcer and radio host ranted on Twitter about the "hero worship" occurring. Expressing a sentiment that echoed one shared by Ben Shapiro, editor-at-large for Breitbart.com, Brando railed against those who consider Collins to be a hero for becoming the first active openly gay athlete in any of the major U.S. team sports.
On the topic of Jason Collins I really don't care and frankly why should anyone else.The HERO worship is out of bounds.I'm glad he is happy.

— Tim Brando (@TimBrando) April 29, 2013
I called Jason and his brothers games in the NCAA's and was happy for him upon being drafted. He is good guy. Good for him. Hero? No sorry.

— Tim Brando (@TimBrando) April 29, 2013
I'm hearing Collins is a HERO because he made history! Okas a Sports Commentator if I make a SEX tape is that history?The word matters ok

— Tim Brando (@TimBrando) April 29, 2013
In response to a question about the backlash that his comments generated, Brando offered an explanation as to why his perspective was not popular.
.@callmeg_unit Simple Being a a Christian White male over 50 that's raised a family means nothing in today's culture. The sad truth. Period.

— Tim Brando (@TimBrando) April 29, 2013
Calling it a night folks. The Dictionary matters to me and "HERO"can't be used loosely. That's my only point. Twitter took over afterwards.

— Tim Brando (@TimBrando) April 29, 2013
Although Brando does not specify what dictionary he consulted, here are four definitions for "hero" offered by Merriam-Webster, who has been "America's leading and most-trusted provider of language information" for more than 150 years.
a mythological or legendary figure often of divine descent endowed with great strength or ability
an illustrious warrior
a man admired for his achievements and noble qualities
one who shows great courage
While Collins is not a "mythical or legendary figure" or "illustrious warrior," he is certainly being rightfully commended for his courageous decision and appears to be widely admired for his on-court achievements as well the noble qualities displayed in his writing and actions.
BEFORE YOU GO
PHOTO GALLERY
The Sports World Reacts To Jason Collins