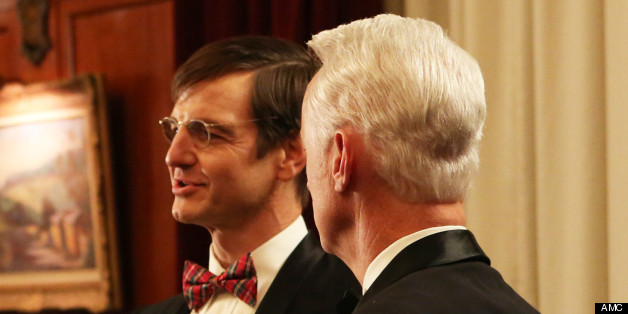 Did the slimy and/or crazy insurance magnate who made one of the most ridiculous pitches SDCP has ever seen on Sunday's "Mad Men" episode look familiar to you?
Not only is William Mapother, who played Randall Walsh, Tom Cruise's cousin, but he played Ethan on "Lost" and Delroy on "Justified."
In true "Mad Men" form, Mapother refused to reveal any details about his role ahead of Season 6, citing a fear of "Mad Men" creator Matt Weiner.

"I just had this vision of confronting him in a sort of Mad Matt: Beyond Madison cage, and it involves ritualized disembowelment, humiliation before the secretarial pool, and a very bad wardrobe," Mapother joked on his blog of having Weiner find out he'd revealed a "Mad Men" detail.
Mapother wasn't the only guest star that popped up on last night's "Mad Men" episode: He was joined by Harry Hamlin, who played Jim Cutler, and Lennon Parham as Peggy's realtor Ginny Hunt.
"Mad Men" airs on Sundays at 10 p.m. ET on AMC.
PHOTO GALLERY
Familiar Faces On "Mad Men"
BEFORE YOU GO