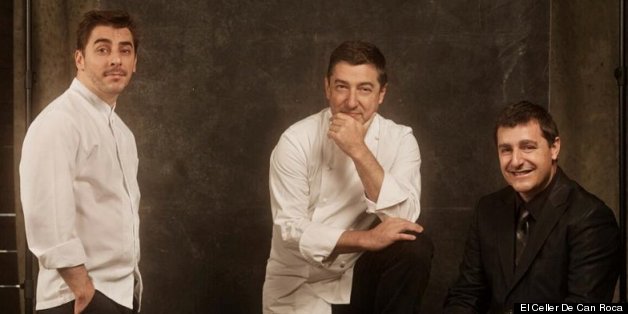 El Celler De Can Roca restaurant in Girona, Spain has been named the best restaurant in the world by Restaurant magazine. Each year, the world's top toques gather to hear the announcement of the World's 50 Best list.
This is the first year the restaurant has held this title, though it has been on the list for eight years and hold three Michelin stars. The restaurant is helmed by three brothers -- Josep, Jordi and Joan Roca. They have also been hard at work on a massive book.
While El Celler De Can Roca has been a top contender for several years, Noma held the honors for the past three years.
Only one restaurant in the U.S. made the top 10 -- Eleven Madison Park in New York City came in at number five. Per Se, also of New York, just missed the top 10 and came in at number 11. Noticeably absent on this year's list was Momofuku Ssam, which was number 37 last year. Other U.S. restaurants on the list were The French Laundry (47), Daniel (29), Le Bernardin (19) and Alinea (15).
As is the case with all "best of" lists, no guide is perfect. But very few sources attempt to rank all the restaurants in the world. The "50 Best" awards are decided by a group of over 900 restaurant world experts. There are 26 different regions that make up the list, and each region has a panel of 36 members including a chairperson. Each panelist has seven votes and at least three of those votes must be for restaurants outside of his or her region.
On his blog the Ulterior Epicure, fine dining enthusiast and photographer Bonjwing Lee outlines some of the issues he has with the list (do read the whole piece, though):
At best, these are the fifty trendiest (or most-publicized) restaurants in the world, as determined by a rather insular group of voters that includes chefs and restaurateurs (many of whom work in restaurants that appear on the list), food journalists, and bloggers (some of whom are not shy about announcing their position as a "World's 50 Best Restaurant's" voter to chefs and restaurateurs upon their arrival). And let's not forget the sponsor of this list is San Pellegrino & Acqua Panna, a company that has much to gain on the tables and in the tumblers of the high-end restaurants that this list seems to favor.
Several awards were announced in advance of the 50 best announcement. Chef Alain Ducasse was awarded with the Lifetime Achievement honor and Nadia Santini was given the Best Female Chef award.
Take a look at the list:
50. Central: Lima, Peru New Entry
49. Septime: Paris, France New Entry
48. Quay: Sydney, Australia
47. The French Laundry: Yountville, California
46. Mani: São Paulo, Brazil New Entry
45. Geranium: Copenhagen, Denmark
44. Asador Etxebarri: Atxondo, Spain
43. Mr & Mrs Bund: Shanghai, China New Entry
42. Schloss Schauenstein Fürstenau, Switzerland
41. Piazza Duomo: Alba, Italy New Entry
40. Combal.Zero: Rivoli, Italy Re-Entry
39. 8 1/2 Otto E Mezzo Bombana: Hong Kong, China
38. Restaurant Andre: Singapore New Entry
37. Vila Joya: Albufeira, Portugal
36. Amber: Hong Kong, China
35. Oud Sluis: Sluis, Netherlands
34. Fäviken: Järpen, Sweden
33. The Fat Duck: Bray, Great Britain
32. Nahm: Bangkok, Thailand
31. Biko: Mexico City, Mexico
30. Aqua: Wolfsburg, Germany
29. Daniel: New York, New York
28. Mirazur: Menton, France
27. Le Calandre: Rubano, Italy
26. Quique Dacosta: Dénia, Spain
25. Hof Van Cleve: Kruishoutem, Belgium
24. L'Atelier Saint-Germain de Joël Robuchon: Paris, France
23. L'Astrance: Paris, France
22. Nihonryori RyuGin: Tokyo, Japan
21. Attica: Melbourne, Australia Best in Australasia, Highest New Entry
20. Narisawa: Tokyo, Japan Best In Asia
19. Le Bernardin: New York, New York
18. Le Chateaubriand: Paris, France
17. Pujol: Mexico City, Mexico
16. L'Arpège: París, Francia
15. Alinea: Chicago, Illinois Chefs' Choice
14. Astrid y Gastón: Lima, Peru Highest Climber
13. The Ledbury: London, Great Britain
12. Frantzén/Lindeberg: Stockholm, Sweden
11. Per Se: New York, New York
Here's the top 10:
PHOTO GALLERY
World's "50 Best" Restaurants 2013
Correction: An earlier version stated that Ous Sluis is in Belgium. It is in the Netherlands.
BEFORE YOU GO