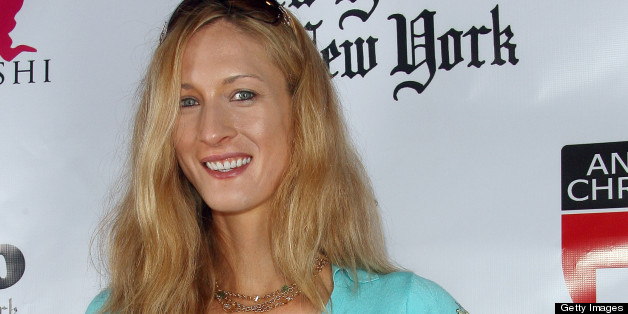 Jason Collins' ex-fiancee and longtime girlfriend, Carolyn Moos, opened up about her ex coming out and revealed that she was shocked to learn he is gay.
Former WNBA player Carolyn Moos dated Collins and even got engaged to him before he called things off in 2009. When Collins told her he is gay just days before going public with the news, she was shocked.
"It's very emotional for me as a woman to have invested [eight] years in my dream to have a husband, soul mate, and best friend in him. So this is all hard to understand," Moos told TMZ. "I care about [Jason] tremendously and only want the best for him. I want Jason to be happy for a lifetime and stay true to who he really is, inside and out."
When she first found out, Moos said she felt a range of emotions -- "hurt, confusion and embarrassment" -- but eventually was able to offer support.
"I had to sit down," Moos, now a personal trainer and nutritional consultant, told ESPN. "I was shocked. There's no words to really describe my reaction. ... But this does alleviate some of the pain. … I'm so happy for him. He deserves to live the life he wants."
In his coming-out editorial for Sports Illustrated, Collins said he had lived a lie, writing: "When I was younger I dated women. I even got engaged. I thought I had to live a certain way. I thought I needed to marry a woman and raise kids with her. I kept telling myself the sky was red, but I always knew it was blue."
The Washington Wizards center sat down with ABC News' George Stephanopoulos and discussed his life in the closet. Collins said axing his nuptials to Moos was a difficult thing to do.
"Calling off the wedding was obviously a tough decision but it was the right one because I knew I wasn't getting married for the right reasons," he said.
Since coming out, the 34-year-old NBA player has received support from the likes of President Barack Obama, Ellen DeGeneres, Bill Clinton, Kobe Bryant and more. He is the first professional male athlete to come out as gay while actively playing in one of America's four major leagues.
BEFORE YOU GO
PHOTO GALLERY
The Sports World Reacts To Jason Collins