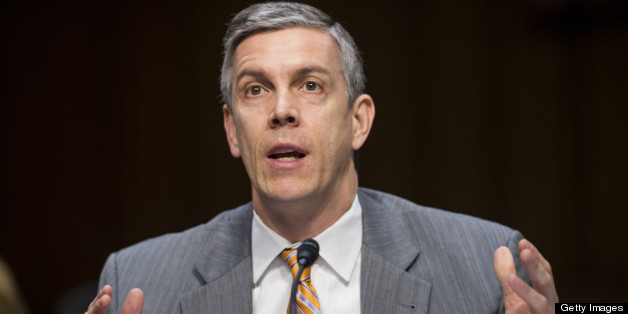 Students applying for federal student aid in 2014 will fill out a slightly different form than previous applicants. Rather than being able to report only information about their married mother and father, applicants will now be able to report information about unmarried or same-sex parents who cohabit.
The Department of Education announced Monday that it will make these changes to get a more accurate picture of an applicant's financial situation.
"All students should be able to apply for federal student aid within a system that incorporates their unique family dynamics," said U.S. Secretary of Education Arne Duncan, according to a statement released by the Department Of Education. "These changes will allow us to more precisely calculate federal student aid eligibility based on what a student's whole family is able to contribute and ensure taxpayer dollars are better targeted toward those students who have the most need, as well as provide an inclusive form that reflects the diversity of American families."
The 2014-2015 Free Application for Federal Student Aid, or FAFSA, will include two distinct changes. Applicants will have the option of describing their legal parents' martial status as "unmarried and both parents living together." Additionally, the new application will use language like "Parent 1 (father/mother/stepparent)" and "Parent 2 (father/mother/stepparent)," which will allow applicants to report that they live in a same-sex household.
Information in the FAFSA form is used to figure out a student's expected family contribution (EFC), or how much money a family has to contribute to their child's education. According to the FAFSA website, the EFC "is a measure of your family's financial strength," and it is used "to determine your federal student aid eligibility and financial aid award."
Previous FAFSAs collected information about a student's parents only if they were married. The form excluded information about a student's parents if they were living together but unmarried, or if they were in a state-sanctioned same-sex marriage that was not recognized under the federal Defense of Marriage Act.
These changes will not impact the applications of students with divorced parents. The FAFSA will continue to collect information only about the parent the student has resided with "for the greater portion of the 12 months preceding the date of completing the FAFSA is to be reported," per the Department of Education.
The department also said that these changes will not impact a vast majority of applicants, but it cautioned that the upcoming FAFSA changes could result in reduced aid for some students with unmarried or same-sex parents. This is because an additional parent's income and assets will now be considered when determining the student's need.
Lesbian, gay, bisexual and transgender (LGBT) groups, such as the Gay, Lesbian & Straight Education Network (GLSEN), praised the upcoming changes, according to the Washington Blade.
"GLSEN has long worked to ensure that sexual orientation and gender identity are not used to discriminate against students in our nation's K-12 schools, whether that student identifies as LGBT, has LGBT friends, or comes from an LGBT family," said GLSEN Director of Public Policy Shawn Gaylord, per the Blade. "We're thrilled by the Department of Education's decision to allow students filling out the FAFSA to accurately describe the makeup of their family, regardless of their sexual orientation or gender identity."
The Department of Education will publish these FAFSA changes this week in the Federal Register for public comment.
BEFORE YOU GO
PHOTO GALLERY
12 Tuition-Free Colleges: U.S. News