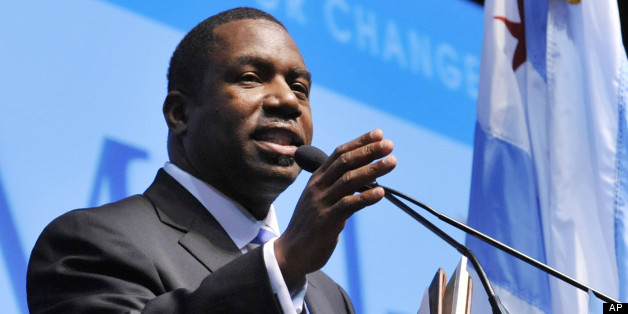 A group of socially conservative African-American ministers led by Rev. James Meeks released a new round of robo-calls condemning Illinois' same-sex marriage bill on Monday.
According to the Chicago Sun-Times, the robo-calls have been sponsored by the National Organization for Marriage (NOM), an organization that previously threatened that it would target any Republican lawmaker who votes in support of pending legislation that would bring marriage equality for same-sex couples to the land of Lincoln.
The robo-call campaign is expected to cost $75,000, according to the Sun-Times.
Locally, the Chicago-based African American Clergy Coalition is opposed to the bill and is also behind the robo-calls, though a competing group of black faith leaders has spoken out in favor of marriage equality in Illinois. Last week, state Rep. Ken Dunkin, a Chicago Democrat who is the head of the 40-member Illinois Legislative Black Caucus, announced he plans to vote in favor of the measure in the hope that his announcement could help sway his undecided fellow caucus members.
The Illinois state House's 20 black members are being considered the swing vote that could determine the fate of the pending bill, which was approved by the state Senate in February and has the support of Democratic Gov. Pat Quinn. The group is being heavily lobbied by both opponents and supporters of the bill.
Quinn told the Windy City Times this week that he is pushing for the House to approve the bill by the spring legislative's session conclusion on May 31. He said he is "really optimistic we're within striking distance." A vote is expected to come any day now.
BEFORE YOU GO
PHOTO GALLERY
Gay Marriage In The United States
***