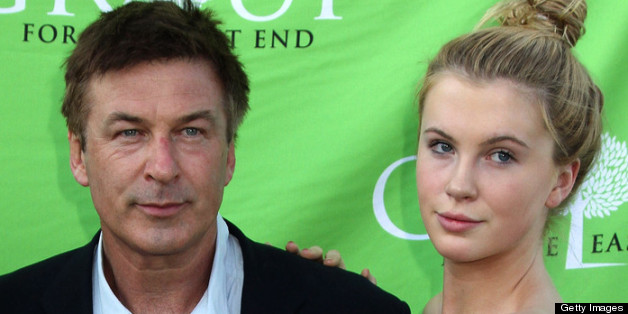 Apparently speaking your mind is a gene that runs in Alec Baldwin's family. The "30 Rock" actor's 17-year-old daughter Ireland Baldwin, who recently inked a modeling contract with IMG, has penned a lengthy open letter on her Tumblr page.
In the nearly 900-word blog entry posted Monday, Ireland blasts critics for calling her "too fat to model" and says comparisons to her mother, actress Kim Basinger, are unfair. She defends her decision to model, saying that she is "trying to figure this whole thing out":
"Of course I get those comments about how I am too fat to model, how I am not model material, how I am an unattractive girl, how I am too tall, etc. I understand. I don't look as glamourous as Rosie Huntington Whitely when leaving the gym. I'm actually really sweaty. Like really sweaty … I AM NOT MY PARENTS. My mom is one of the most beautiful woman in the world. She is 5'9, I am 6'2. She is petite and fragile, and I am fit and…. more to love tehe. I have a booty, she has a thigh gap. As she emerged from her teen years, she developed an angular face and striking cheekbones. I am still a teen making my way out of my awkward phase. I am still trying to figure this whole thing out. "
Ireland also addresses her father's famously angry voice mail to her in 2007 and says that "he recognized that he needed to change." (Alec later claimed that estranged ex-wife Basinger had leaked the voice mail to gossip website TMZ in order to spite him. The actor can be heard calling then-11-year-old Ireland a "thoughtless little piggy," lacking the "brains or the decency as a human being" for not answering her phone for their prescheduled chat.)
She writes:
Just like almost all of you, my Dad has made some mistakes in the past. He has spoken out of place, he has let his temper get the best of him, and he has reacted towards things in ways he shouldn't have. I get hateful replies and threats regarding mistakes of my Dad's past. This isn't fair. I had nothing to do with anything that happened back then, so I don't fully understand why I am being targeted. More importantly, my Dad has moved on. He recognized that he needed to change, so he made changes. He is now healthy, happily married with a baby on the way. He moved on, so why can't you? I have entered the social media world and the entertainment business to make a name for myself ... I am proud to be my parent's daughter, but I don't want to forever be known as "that rude thoughtless little pig" or " Alec Baldwin and Kim Basinger's kid."
To read Ireland's full blog post, click here.