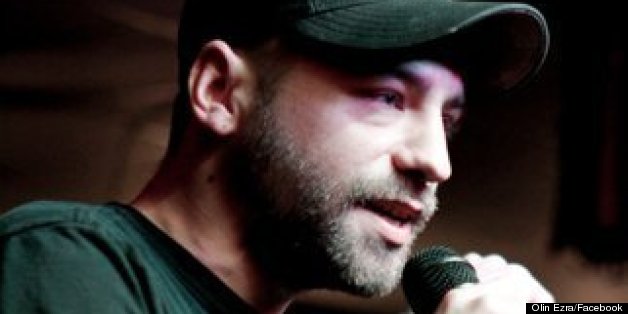 PJ's Lager House, a popular Detroit music venue, was jumping on April 20, packed by a long lineup of local musicians that included the R&B/funk artist Nadir, the rapper Volcano and the rock fusion group Shotgun Soul. The event, billed as "Olin Ezra's 420 Experience" was sponsored by a local radio station, but not the kind found on a typical radio dial. Instead, it was organized by Tapdetroit.com, an internet radio station based in Detroit's Russell Industrial Center.
The station may not have a radio tower, but it's been broadcasting live through cyberspace since 2010. It's one of several online stations now live streaming in Metro Detroit -- a list that also includes UDetroit.com, which makes its home in a downtown Detroit cafe and the Michigan music-themed Radio Opie.
Tap Detroit distinguishes itself with an independent music and talk format and a nonconformist DIY ethos. Perhaps this isn't surprising, since the operation is located in the Russell, a former factory complex that is home to a host of bohemian lofts, artist studios and scrappy small businesses.
The online station runs 24/7 and has roughly 25 local and syndicated online shows. One of these programs is a mixed format show hosted by Detroit counterculture icon, John Sinclair. Others include Chris Moondancer's "Nachtlich," which features a blend of industrial, goth, and synthpop music, and a show dedicated to underground music hosted by Volcano.
Olin Wade owns Tap Detroit with partners Marc Nader, a local musician, composer and photographer that specializes in live concert photos, and Les "Zaldor" Zalewski, a DJ who hosts the variety show "Zaldor's World."
While he and his partners strive to make the broadcasts sound professional, creative concerns are valued over commercial interests. "It's everything you wish regular radio could be," he told The Huffington Post. "Mainstream media has become so sanitized."
Wade works six days a week at the station as a jack-of-all-trades and hosts his own talk show, taking a light-hearted approach to controversial issues like medical marijuana and homeland security. "I want to keep people current and keep it funny," he said. "I'm trying to create a show with an open forum for people to come to their own conclusions."
Wade's entry into internet broadcasting began in 2006, when he started hosting a podcast called "Video Game Inter-Act," that explored video game culture. The production got picked up by a now-defunct podcast service run by Yahoo, giving Wade his first taste of internet recognition. After six episodes, he dropped offline, but returned to the internet in 2008 to launch "The Olin Ezra Show" as a podcast.
At that time, he was getting help from his cousin Dilan Wade, a sound engineer who was renting a studio at the Russell. As fate would have it, his cousin also ran a music events directory website called Tap Detroit, which he became convinced would be the perfect name for an internet radio station. In 2010, they changed over to a live format and began streaming music and talk. That year, his cousin decided to move on to other projects and sold the site to Wade for $5. Wade moved across the hall and set up a new studio with the help of Nader and Zalewski.
Since then, Tap Detroit has been building up a steady list of DJs and broadening its audience. While most listeners live in Southeast Michigan, the station can have a very long reach.
"We interviewed Mark Farner from Grand Funk Railroad on Jeff's Album Review," Wade said. "We had people calling in from all over the U.S. -- Missouri, Minnesota, Florida, New Hampshire."
In the last month, the site received about 1,000 unique visitors from 27 different countries, according to Wade. While this might not be anywhere near the numbers of a traditional station, Wade describes Tap Detroit's audience as a tight-knit interactive community that uses an online chat board to communicate with hosts and with each other. Occasionally, they also rally for local causes. During an on-air marathon last year, Wade said listeners raised $2,500 in one week for Gleaners, a local food bank.
As for funding, the ownership makes enough to cover their costs with the support of of local businesses like JAM Heads, a maker of custom promotional products for musicians. Though the work is far from lucrative, Wade is thankful for the opportunity the station provides him and others to spread independent music and ideas and promote Detroit culture around the world.
"I think what it's doing will be viable in the future. Other terrestrial radio stations, they're vying for internet listeners too," he said. "I take a pay cut voluntarily, because I believe [in] what Tap Detroit is doing for the community."
Professional-sounding independent music can be submitted for broadcast on Tap Detroit at music@tapdetroit.com.
BEFORE YOU GO
PHOTO GALLERY
Top 9 Countries For Unauthorized Music Downloads