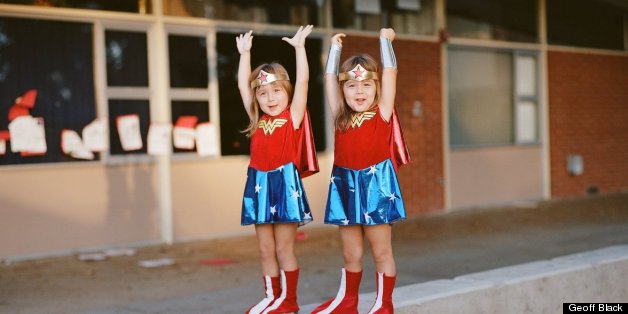 It's no secret that having children changes a person. You might start saying things that make no sense out of context. Or, repeat clichés you hated to hear when you were little. You certainly deal with poop on a much more regular basis.
For Geoff Black, fatherhood sparked a passion for photography (in addition to one or two of the above things, very probably). The father of 4-year-old twin daughters, Jamisen and Jacksen (or "Baby-A" and "Baby-B"), has been taking pictures of the girls together since the day they were born, collecting them all in a Flickr album that now has more than 330 images.
While Black, a professional mortgage loan consultant, has taken gorgeous photos of his daughters separately -- at home or out and about, in water, snow and sunshine (and sometimes even behind the camera) -- many of the most striking images in his Flickr collection show the sisters as a pair.
In a recent interview with My Modern Met, Black explained that his efforts were inspired by pictures his new-parent friends shared before his daughters were born.
Despite the fact that he "never took a genuine interest [in photography] prior to the era of the twins," Black said in an email interview with HuffPost Parents, he thought he could improve on the smartphone pictures he was seeing everywhere else.
"Selfishly, I wanted good images of my kids," he told HuffPost. "At least images that a non-relative could appreciate ... I know some people can make magic with an iPhone, but I can't. So I set out to learn how to take a decent shot."
The fourteen cameras he's used since his daughters were born -- mostly "garage sale finds" -- range from Polaroids to a 1933 Leica III he found on Craigslist. "Hooked on film" since six months after he bought his camera, the dad experiments in both color and black-and-white.
As for whether or not the girls ever lend a hand with his artistic efforts, Black said: "Sometimes they try to help. Mostly they are resistant. But they respond very well to bribery. A jelly bean goes a long way!"
LOOK:
PHOTO GALLERY
Geoff Black's Photos Of His Twin Daughters
BEFORE YOU GO