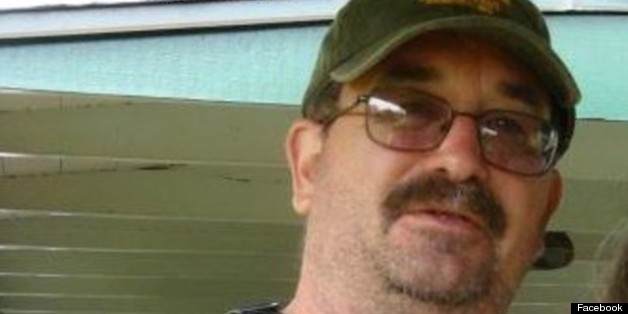 By DNAinfo Staff

RIDGEWOOD — The weeks-long search for Frank Soucie, a missing father and former postal worker, ended Wednesday morning when his stepson surrendered to police hours after Soucie's body was unearthed from a shallow grave in the backyard of his Ridgewood home, sources said. 
Police discovered Soucie's body after neighbors called 911 Tuesday evening when they spotted a fresh mound of dirt in the backyard of 1866 Putnam Ave. and a bag in a nearby dumpster containing clothing and a scorched sleeping bag, neighbors and sources said.
Derek Tudor, the son of Soucie's girlfriend, surrendered to police the next morning, but refused to speak to investigators, sources said.
"This is the place where this man lived and you're just going to put him in the backyard — who does something like that?" said a shocked neighbor, Jennifer Harris. "I just can't believe what exactly happened right next door to me. I just can't believe what the people found."
The medical examiner's office confirmed they planned to perform Soucie's autopsy Wednesday afternoon.
Soucie, whom neighbors said liked to sit outside and chat about his Yankees, hadn't been seen since April 22, according to a Facebook post by his biological son, who shares his name.
"I Need Your Help!!! Please Share!!! This is my farther(sic) Frank L Soucie. He has been missing since Monday April 22nd. He is 60yrs old about 5ft8 180lbs. Average build with a bit of a beer belly. Balding Black hair, recently has grown a full bread that is brown in color. Last seen in Ridgewood, Ny (Queens)," the younger Frank Soucie posted every day on his Facebook page since his father's disappearance.
The older Soucie lived with his 54-year-old girlfriend, Stephanie Bernie, in the Ridgewood apartment building, sources said. The two frequently fought about Tudor, who occasionally lived in their home, sources said.
The tension appeared to come to a head April 22 when Soucie disappeared after a bad row, neighbors and sources said. Two days later, Bernie told police Soucie was missing, sources said. She tried to enlist the help of neighbors too, but no one knew anything, they said. 
Then Tudor was spotted Tuesday hauling a large bag out of his building and into a nearby dumpster, neighbors said.
"The way he threw it and the way he left, I said, 'I'm going to open it,'" said Iliana Bratu, 64, who added that she pryed open the sack with a stick.
Inside, she found several other bags and a grey sleeping bag covered in ash, she said.
Separately, others spotted the suspicious mound of dirt and notified police who dug into it to discover Soucie's shrouded body in a shallow grave, neighbors and sources said.
"The bags were closed, but you could tell it was a body," said neighbor Anne Marie Mandala who watched the investigation from her window.
Tudor was escorted by his biological father when he surrendered to police Wednesday morning.
The stepson never quite fit in, neighbors recalled.
''He was not friendly," Bratu said. "His face, his eyes were ominous looking. He never smiled. He wasn't friendly. He was like a stranger on the block.''
In contrast, Soucie was remembered a jovial baseball fan who liked to listen to games on the radio in front of his home.
"I'm a Mets fan so he'd always call my team 'the other team,' or 'the minor league team in Queens," Antonio Benenati, 34. ''He'd be out here 'til 4 in the morning just sitting in a collapsible chair, drinking Bit Burger. Ten degrees, 50 degrees, 100 degrees, he would always be out.''

BEFORE YOU GO
PHOTO GALLERY
NYC's Missing Children